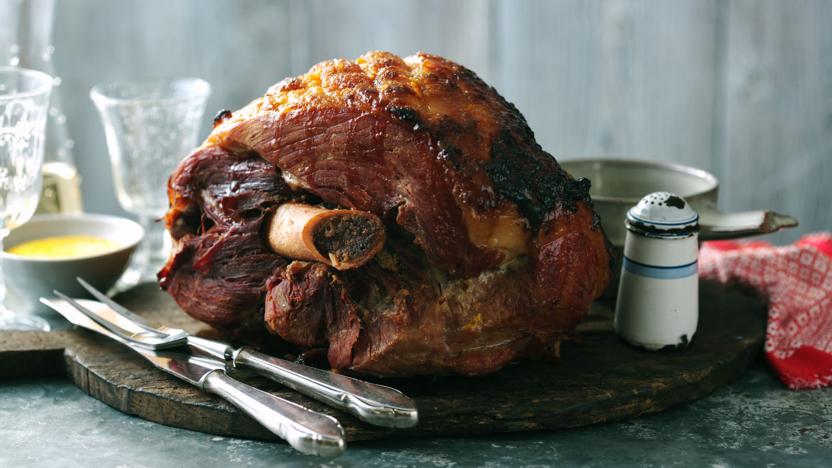 A favourite for Christmas, a baked ham is an easy way to feed a crowd. Many hams don't need soaking these days, so ask your butcher if you're not sure.
Method
Place the soaked ham in a large pan, with the onions, cloves, peppercorns and bay leaf.

Cover with water, bring to the boil and skim away any impurities. Leave the ham to simmer, allowing 20 minutes per 450g(1lb).

Pre-heat the oven to 190C/170C Fan/Gas 5.

Once cooked, remove the ham from the pan and stand for 10-15 minutes before peeling away the skin.

The fat can be left as it is or scored, creating a diamond pattern. Brush the ham with mustard and sprinkle well with the demerara sugar.

Bake the ham for 30-40 minutes taking care to baste the ham with juices and the caramelised sugar. Once golden, remove from the oven and rest for 15-30 minutes before carving, or leave until cold.

To make gravy, pour the chicken stock into the roasting pan to lift any residue in the pan and simmer until reduced by one-third to one-half and strain.
Recipe Tips
The ham may need to be soaked in cold water for 24 hours, changing the water occasionally