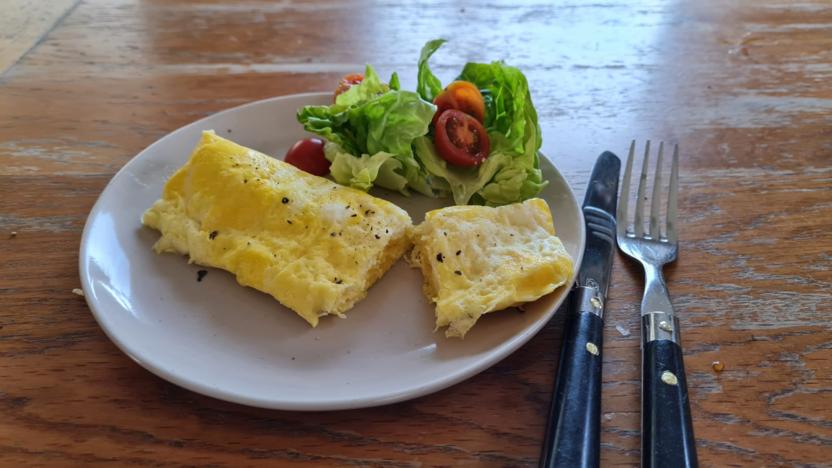 A boil-in-the-bag omelette is a foolproof way for kids to cook eggs without panicking about sticking or burning. Ironically, it doesn't need to really boil, just gently cook in simmering water. Customise this recipe to include your favourite fillings.

You will need a sealable, sturdy plastic sandwich bag
Method
Half-fill the kettle and put it on to boil.

Fold down the top of the plastic bag and wedge the bottom into a mug so that the bag is held open.

Crack both eggs into the bag. Add the grated cheese and any extra filling ingredients you like. Add a pinch of salt, though you may not need this if you use mature cheese.

Unfold the top of the bag and seal it shut, gently squeezing as much of the air out as possible. Gently squeeze the bag to break up the yolks and to mix the cheese and eggs together.

Pour the boiled water from the kettle into a pan that's as wide as your sandwich bag (a big saucepan or deep frying pan would work). Bring to a simmer (some little bubbles will form in the water) over a medium heat.

Submerge the eggy end of the bag in the water - a little may stick out. Keeping it free of wrinkles and crinkles will make it look posher, but it will taste just as good if it has some creases. Cook in the water for 10-12 minutes, turning the bag once or twice so that both sides have had time under the water.

Remove the bag from the water and unseal. The omelette will easily come away from the sides. Holding the bag by the bottom corner, shimmy the omelette out onto a plate. Serve with salad, peas and a few slices of buttered bread.
Recipe Tips
You can freestyle on this boil-in-the-bag omelette with herbs, different cheeses, leftover cooked meat or fish. But it tastes lovely with just cheese, too. You can cook more than one omelette at a time in the pan. Do wash out the bag and use it again.