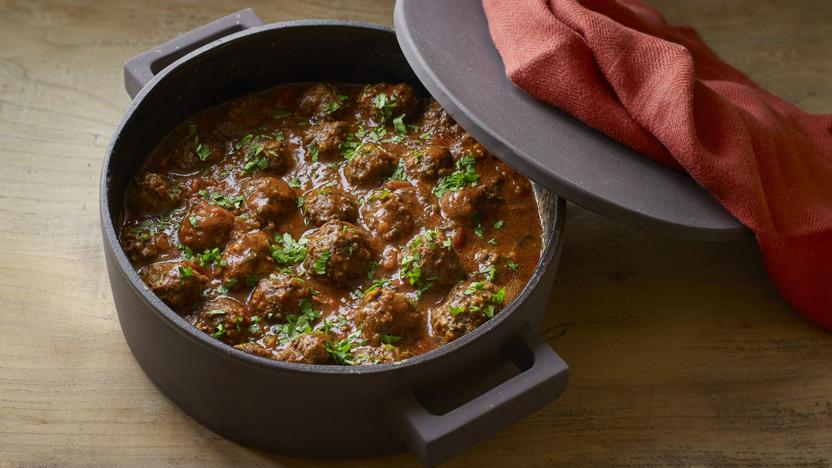 These are one of my absolute favourite things to eat, an instant sparker of joy; I honestly feel so much better about life knowing there's always a container or three of them in the freezer. I thrill at their deep gloriousness every time I eat them.
Ingredients
For the tomato sauce
Method
Take the minced beef and black pudding out of the fridge so they lose their chill while you get on with the sauce. Pour 400ml/14fl oz cold water into a measuring jug and put it by the hob.

To make the sauce, melt the dripping or warm the oil in a large heavy-based casserole then add the onion and cook over a medium heat, stirring every now and then, for about 15 minutes or until beginning to soften and turn golden in parts.

When the onions are ready, stir in the dried thyme, parsley and garlic. Add the tomatoes, then swill out the empty tins with the water in your jug and pour it into the pan. Stir in the tomato puree, Worcestershire sauce and salt and then turn up the heat to bring to the boil. Once boiling, turn down the heat and simmer for 10 minutes.

Meanwhile, make the meatballs. Loosen the mince with your fingers as you drop it into a large bowl. Add the black pudding, crumbling it in by hand. Add the garlic, parsley, chives, dried thyme, salt, pepper and chilli flakes, then sprinkle over the oats and crack in the eggs. Mix this all together with your hands, making sure it's evenly incorporated.

Tear off walnut-sized lumps of the mixture and roll them between your palms to make meatballs, placing them on a lined baking sheet or large chopping board as you go. You should end up making about 40.

Drop the meatballs into the sauce in concentric circles, easing them in gently. Try to get the meatballs covered by the sauce and then bring to a bubble. Clamp on the lid, turn the heat down a bit, and let it simmer robustly for 15 minutes.

Take off the lid and give the pan a very gentle stir, then leave without a lid for another 15 minutes, simmering a little less robustly now, by which time the meatballs should be cooked through.

Check the sauce for seasoning, then leave off the heat for 5–10 minutes. Ladle into bowls, sprinkle with chives and parsley and eat with bread and butter or a buttery bowl of colcannon.
Recipe Tips
Both the meatballs and the sauce freeze extremely well. Freeze leftover cooked meatballs in sauce in airtight container for up to 3 months. Defrost overnight in fridge and reheat as above. Freeze sauce only in airtight container for up to 3 months. Defrost overnight in fridge.
Broadly speaking, black pudding comes in either a nubbly, crumbly texture or a smooth, moussy texture. I tend to favour the latter for these, but use either happily.
This recipe is from...
Recipes from this episode