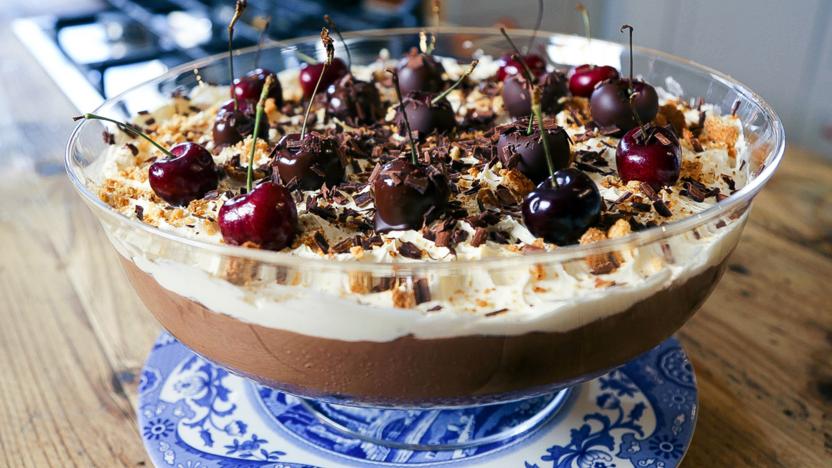 This Black Forest trifle uses chocolate-flavoured custard, layered with either chocolate cake or brownies (depending on your preference) and cherries – all topped with whipped cream, crushed amaretti biscuits and grated chocolate. What's not to like?
Ingredients
For the chocolate custard
For the trifle
Method
First make the custard as this will need to chill before you make up the trifle. Melt the chocolate - either in the microwave or very carefully in a bain marie (a heatproof bowl placed over a pan of simmering water). Leave to cool.

Put the milk and cream into a saucepan with the vanilla pod and bring to just-below boiling point. Remove from the heat and leave to infuse until cooled slightly.

Put the egg yolks, caster sugar, cocoa powder and cornflour into a bowl and whisk, preferably with electric beaters, until the mixture is very well aerated, pale and stiff enough so that it keeps shape when you trail the beaters through it.

Pour the slightly cooled milk and cream mixture over the eggs, mixing as you go, then stir in the melted chocolate. Mix thoroughly, then rinse out the saucepan and return the custard to it. Cook, stirring constantly until the custard thickens – this can take anything between 10 and 20 minutes depending on how high you dare have the heat. Do not have it on too low a heat as it will not thicken, but make sure you do not let the mixture boil and keep stirring.

When the custard has thickened to the point of thick double cream, transfer to a jug and cover with clingfilm to stop a skin from forming. When cool, transfer to the fridge – the custard will continue to thicken while it chills.

To make the trifle, cut the brownies or chocolate cake into fairly thin slices and spread with the jam. Sandwich together and arrange in the bottom of a large trifle bowl. Pour over the kirsch or cherry brandy, then sprinkle over the cherries.

Put a layer of the amaretti biscuits over the cherries, then pour over the custard in a thick, even layer. If you have time, place in the fridge until almost ready to serve, again covered in cling film.

Whisk the double cream in a bowl until it forms soft peaks, then smooth this over the custard. Decorate with chocolate curls.
Recipe Tips
For additional festive decadence you can decorate with chocolate dipped cherries
This recipe is from...
Recipes from this episode