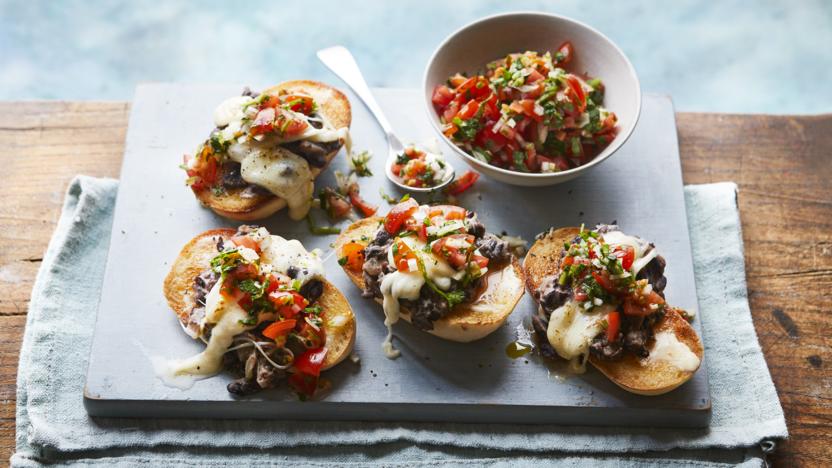 Make a batch of refried beans and enjoy them in tacos, or with a variety of Mexican dishes. Using tinned black beans means the refried beans will be ready in no time! Use the leftovers to make molletes – a Mexican version of beans on toast, with melty cheese and a refreshing spoonful of pico de gallo salsa on the side.
Ingredients
For the refried beans
For the salsa
For the molletes
Method
To make the refried beans, heat the oil in a large frying pan over a medium–low heat, add the onion and cook, stirring often, for 7–10 minutes, until the onion starts to turn golden. Stir in the garlic and cumin and cook for 1 minute.

Add the drained beans to the pan along with 125ml/4fl oz of the reserved bean liquid. Crumble in the stock cube and stir to dissolve it in the liquid. Continue to cook over a medium–low heat, using the back of a spatula (or a potato masher) to mash the beans to a lumpy paste. If necessary, loosen with more of the reserved bean liquid.

To make the salsa, mix all the ingredients together in a bowl.

To make the molletes, heat your grill to the highest setting.

Spread the bread rolls with butter. Place them on a baking tray, buttered side up, then grill until the bread starts to turn golden – keep an eye on it as this will happen quickly!

Spread a heaped tablespoon of refried beans on each half roll and sprinkle the cheese over the beans. Grill until the cheese is melted, bubbling and starting to brown. Serve the hot rolls with the pico de gallo salsa.