Blueberry tart (Tarte aux myrtilles)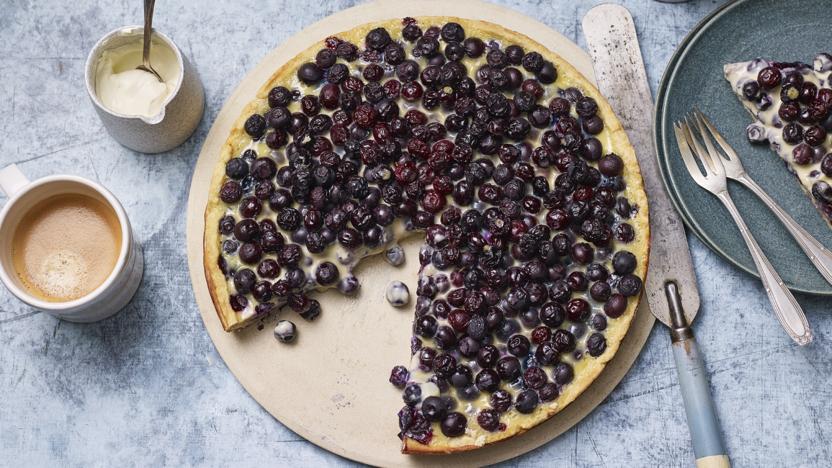 Rick Stein's blueberry tart recipe, with ground almonds and egg custard is the perfect mix of comforting and refined. The tart is really stuffed with fruit with a very light binding of egg custard.
Ingredients
For the pastry
For the filling
Method
To make the pastry, put the flour, salt and butter into a food processor and pulse until the mixture looks like breadcrumbs. Transfer to a bowl, stir in the sugar and then fold in the egg. Add enough of the water to bring everything together and knead into a smooth, non-sticky dough. Wrap the dough in cling film and place in the fridge for about 20 minutes.

Roll out the pastry on a lightly floured surface to a circle measuring about 28cm/11in in diameter. Line a 25cm/10in loose-bottomed tart tin with the pastry and prick the base all over with a fork. Place in the fridge for 20–30 minutes.

Preheat the oven to 190C/170C Fan/Gas 5. Line the pastry case with crumpled greaseproof paper and add some baking beans. Bake for about 10 minutes, remove the paper and beans and put the pastry back in the oven for another 3–4 minutes. Turn the oven down to 180C/160C Fan/Gas 4.

To make the filling, sprinkle the pastry case with the ground almonds and then the blueberries and bake for 15 minutes.

Meanwhile, make a custard by mixing the double cream, icing sugar, eggs and vanilla in a bowl. Pour this mixture over the berries and bake for another 20–30 minutes, or until the tart filling is fairly firm and golden.

Leave the tart to cool in the tin on a wire rack. Serve warm or at room temperature with cream or crème fraîche.
This recipe is from...
Recipes from this episode