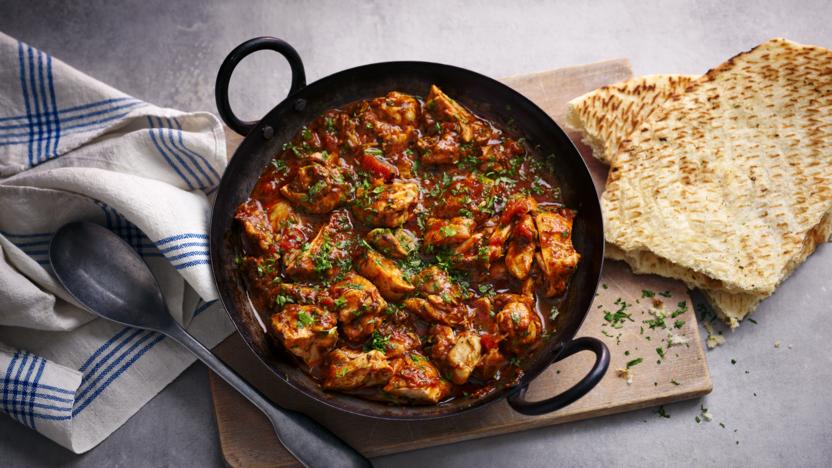 The word 'bhuna' means to fry and, in this recipe, it is key to fry the onions and tomatoes really well until the oil begins to leave the sides of the pan. The secret to a really good chicken bhuna is to not add any water as all the flavour comes from the spices and onions.

Each serving provides 357 kcal, 39.5g protein, 9g carbohydrates (of which 6.5g sugars), 17.5g fat (of which 3g saturates), 3.5g fibre and 1.2g salt.
Ingredients
For the marinade
For the bhuna
Method
To make the marinade, blend the garlic, ginger and a splash of water to a smooth paste in a food processor or blender. Put in a large bowl with the remaining marinade ingredients, except the chicken, and mix to combine. Add the chicken to the bowl and mix well. Leave to marinate for 1 hour, or overnight preferably.

To make the bhuna, blend the tomatoes and tomato purée to a smooth paste in a food processor or blender, then set aside. Heat the oil in a non-stick kadhai or large lidded frying pan over a medium heat. Add the chillies, fry for a few seconds then add the onions. Stir well and fry gently for 25 minutes, until browned and softened. Keep stirring often to make sure they cook evenly.

Add the blended tomato paste, stir and fry for 5 minutes. Add the marinated chicken and cook for 6 minutes, stirring so the chicken is well coated in the masala. Season with salt, lower the heat and continue cooking with a lid on for 8 minutes until the chicken is cooked through, stirring halfway through. Add the fennel, pepper and garam masala and stir. Garnish with coriander and cook for a couple of minutes. Serve immediately.
Recipe Tips
You can use chicken on the bone, although for ease and quick cooking time I have opted for boneless chicken thighs, which are delicious coated in the thick masala. Serve with naan bread, tandoori roti or kachumbar salad.