Boeuf en daube provençale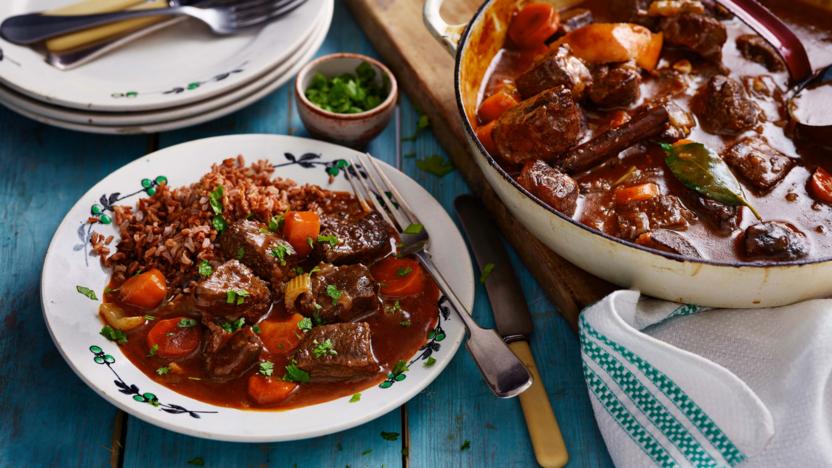 Any leftovers from this makes really good beef ragù – just shred the beef and cook it down with some tomatoes.

Equipment: You will need to small patches of muslin to make the bouquet garnis.
Ingredients
For the beef marinade
For the bouquet garnis
For the casserole
To serve
Method
Put the beef into a large fridge-friendly container. Sprinkle with salt, then add all the marinade ingredients.

Divide the ingredients for the bouquet garnis in half and tie into two separate parcels of muslin. Add one of these to the marinade and set the other one aside. Cover and put in the fridge. Leave for at least six hours, but preferably overnight.

For the casserole, drain the meat, reserving the liquid and the rest of the marinade ingredients. Pat the meat dry and brush off any garlic.

Heat half of the olive oil in a large frying pan and fry the meat in batches until well browned. Deglaze the base of the frying pan with a little of the marinade liquid and set aside.

In a large casserole, add the remaining olive oil. Add the lardons and fry on a high heat for a few minutes until crisp and brown. Add the onion and reduce the heat to medium. Fry for around 10 minutes, or until the onion has softened and lightly coloured. Stir in the tomato purée. Add the beef to the casserole and stir to coat.

Strain the marinade and pour over the liquid along with the deglazing liquid from the frying pan and the second bouquet garni.

Bring to the boil and simmer until the volume of liquid has reduced by around a third.

Add enough beef stock so that the beef is just covered. Return to the boil, then turn down the heat to low. Cover, and simmer for around three hours.

If you are able to, leave overnight – cool and leave in the fridge to chill. Once chilled, it will make skimming off any fat much easier. Otherwise, just skim off some of the fat which will collect at the top.

Add the olives, then simmer uncovered for a further hour to reduce down the sauce. Serve with red camargue rice.
Recipe Tips
Traditionally, a sticky paste (pâte à luter) is used to seal the casserole: mix 100g/3½oz plain flour and one free-range egg white with just enough water to create a fairly sticky paste. Use this to coat the rim of the casserole, then place the lid on top. This will create a seal that you can leave in place for the duration of the slow cooking. You will have to break the seal once the three hours of cooking is up.
This recipe is from...
Recipes from this episode