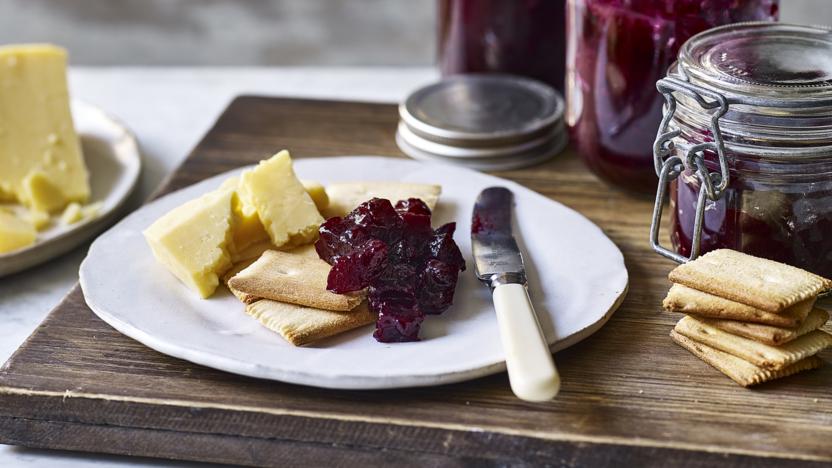 This lovely fusion of earthy sweet beetroot, zesty lemons and piquant capers, with warming hints of fennel, works well with smoked fish, cold poultry or grilled halloumi. It makes a great barbecue relish for just about anything and is a wonderful partner to cheese.
Method
Wash and trim the beetroot, but do not peel. Put the beetroot in a large saucepan and cover with cold water. Bring to the boil, then simmer for 30–40 minutes until just tender – this will depend on their size. Remove from the heat and leave to cool slightly. Once cool enough to handle, remove the skins from the beetroot by lightly rubbing the skin. Cut the beetroot into 1cm/½in cubes and set aside.

Put the lemon zest and juice, vinegar, red onion, apple and fennel seeds into a large, heavy-based saucepan. Place over a medium heat and bring to a simmer. Simmer for 10 minutes, stirring occasionally, until the apple pieces have softened to a purée. Add the diced beetroot and return the mixture to a simmer for a few minutes until the beetroot has heated through. Sprinkle in the sugar and stir until dissolved. Cook for 20–25 minutes, or until the mixture is thick, glossy and jam like. Just before the end of cooking, stir in the capers and season with salt and pepper. Remove from the heat.

Spoon the chutney into the prepared jars. Fill to the brim and gently tap the jars on the work surface to knock out any air pockets. Seal immediately with vinegar-proof lids.

The chutney can be eaten immediately, but it is best left for a couple of weeks to mature and allow the flavours to develop. Store in a cool, dark cupboard for up to a year. Keep in the fridge once opened.
Recipe Tips
To sterilise the lids and jars, put them through a hot dishwasher cycle that is at least 60C. Do not dry them with a tea towel, leave them to air dry. You can also preheat the oven to 140C/120C Fan/Gas 1, wash the lids and jars in hot water and place them in the oven for 15 minutes. Switch off the oven and remove the lids and jars once cool.