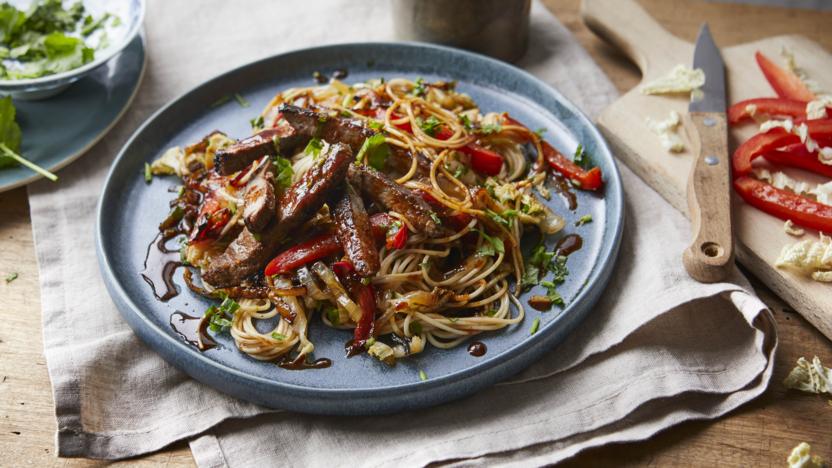 Mary Berry bashes the steak for her beef stir-fry before cooking to tenderise it and then fries it as a piece (rather than in strips) for a more succulent flavour.
Ingredients
For the marinade
For the stir fry
Method
Make the marinade by placing all the ingredients in a bowl and mixing together well.

For the stir fry, using a meat mallet, rolling pin or the base of a saucepan, bash the steaks to make them a little thinner. Sit them in a large dish and spoon over 3 tablespoons of the marinade. Leave to marinate while you cook the noodles.

Cook the noodles in boiling salted water according to the packet instructions, then drain and set aside.

Heat 2 tablespoons of the oil over a medium–high heat in a large non-stick frying pan. Season the marinated steaks with salt and pepper and fry for 1½–2 minutes on each side, then transfer to a warmed plate to rest.

Wipe the frying pan with a piece of kitchen paper, add the remaining oil and fry the red peppers and onion for 3–4 minutes over a high heat. Tip in the white parts of the Chinese leaves and fry for another minute.

Add the remaining marinade and the drained noodles, toss until coated, then add the green parts of the Chinese leaves, some seasoning and half of the coriander. Toss everything together to mix and heat through.

Divide the noodles among four plates. Very thinly slice the steaks and place on top of the noodles. Drizzle any resting steak juices on top and garnish with the remaining coriander to serve.
Recipe Tips
Use your choice of steak; fillet would also be good but is more expensive than rump. If you have time, leave the beef to marinate for longer.
This recipe is from...
Recipes from this episode