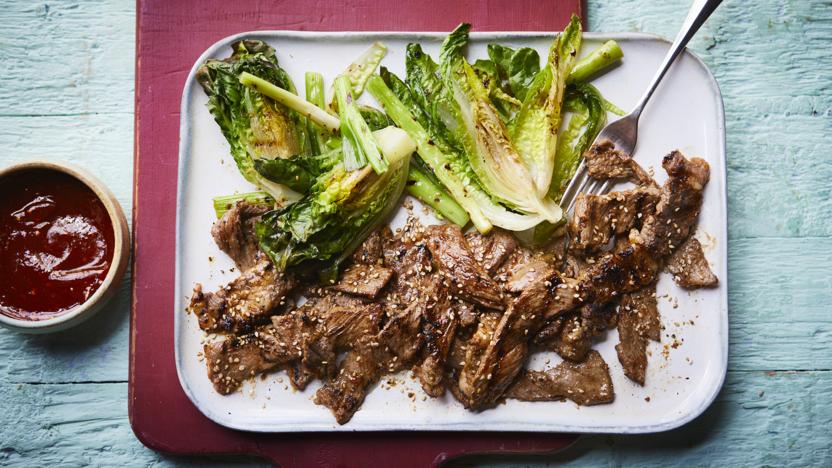 The word bulgogi translates as 'fire meat' as strips of meat are cooked on a barbecue in this recipe. A hot griddle or frying pan can also be used.


Ingredients
For the beef
For the marinade
For the ssamjang (barbecue sauce)
Method
Slice the steak as thinly as possible into long, wide pieces and then bash well with the side of a knife, cleaver or meat mallet to flatten.

To make the marinade, blitz all of the ingredients together in a food processor. Pour over the steak and massage into the meat. Cover with cling film or leave in a sealed food container in the fridge overnight.

Mix all of the ssamjang ingredients together in a ramekin or small bowl.

Preheat a griddle or frying pan over a high heat or prepare the coals for a barbecue. Once the pan or barbecue is smoking hot, place the marinated meat, piece by piece, on top of the hot grill or pan and sear until nicely charred. Turn once and sear the other side. Char the spring onion and lettuces on the grill too. Scatter over the sesame seeds and serve with the ssamjang on the side.
Recipe Tips
If you can't get hold of an Asian pear, you can use a regular pear, but it needs to be very ripe.