Beef and horseradish sausage rolls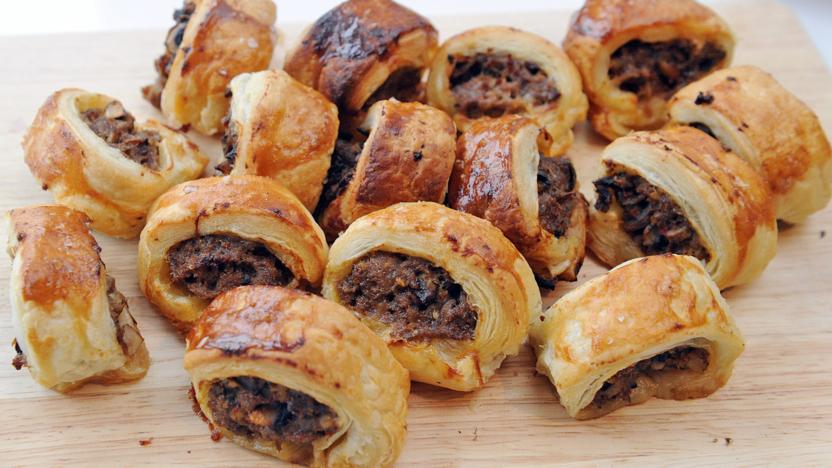 This is a great twist on the classic British sausage roll, using beef sausages with horseradish and mushrooms. Like a cheat's Wellington!
Method
Heat the oil in a medium saucepan over a medium heat. Add the garlic, salt and mushrooms and cook until all the moisture from the mushrooms has evaporated. Transfer to a bowl and leave to cool completely.

Stir the horseradish purée into the mushrooms. Add the beef sausage meat and mix until well combined using your hands.

Preheat the oven to 200C/180C Fan/Gas 6. Line a baking tray with baking paper.

Lightly dust a work surface with flour. Roll out the pastry to 25x35cm/10x14in, then cut it into three equal rectangles lengthways. Roll out each rectangle a little more, to create more width.

Divide the beef mixture into three equal parts. Spread one part down one side of a pastry rectangle in a long, thin sausage shape. Brush the long edge with a little beaten egg and roll the pastry up over the sausage meat to seal. Repeat with the remaining sausage meat and pastry.

Cut each long piece into eight to ten sausage rolls and place on the prepared baking tray. Brush each pastry with a little more beaten egg, then bake for 15–20 minutes.

Leave to cool for 10 minutes before eating as they will be very hot.
Recipe Tips
These can be frozen before or after baking, whichever suits you best.