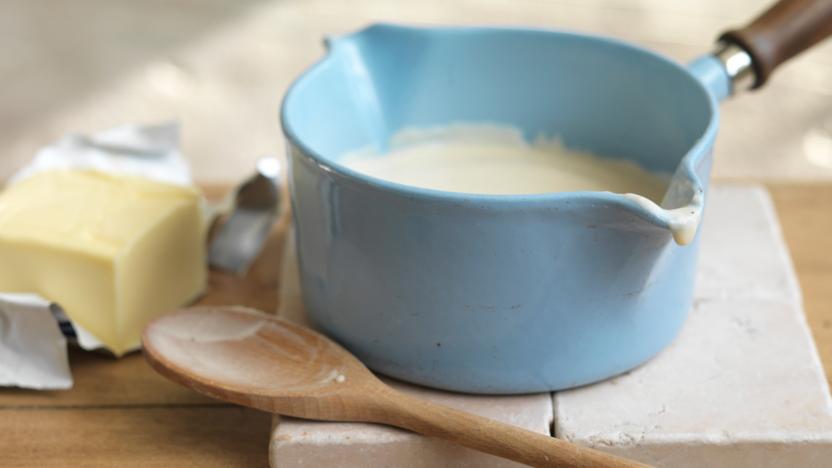 Delia' shows you how to make béchamel sauce, using a mixture of butter and flour called a roux. A béchamel sauce is one of the French "mother sauces" and is a really good one to learn.

Each serving provides 640 kcal, 16g protein, 34g carbohydrates (of which 19g sugars), 48g fat (of which 31g saturates), 1g fibre and 2.2g salt.
Method
First place the milk in a small saucepan and add the parsley stalks, bay leaf, mace (if using), peppercorns and onion. Then place it over a low heat and let it come very slowly up to simmering point, which will take approximately 5 minutes. Then remove the saucepan from the heat and strain the milk into a jug, discarding the flavourings.

All this can be done ahead of time, but when you want to make the sauce, use the same washed pan and place it over a gentle heat. Begin by melting the butter gently - don't over-heat it or let it brown, as this will affect the colour and flavour of the sauce. As soon as the butter melts, add the flour and, over a medium heat and using a small pointed wooden spoon, stir quite vigorously to make a smooth, glossy paste. Now begin adding the infused milk a little at a time - about 1fl oz/25ml first of all and stir again vigorously. Then, when this milk is incorporated, add the next amount and continue incorporating each bit of liquid before you add the next. When about half the milk is in, switch to a balloon whisk and start adding large amounts of milk, but always whisking briskly. Your reward will be a smooth, glossy, creamy sauce.

Now turn the heat down to its lowest setting and let the sauce cook for 5 minutes, whisking from time to time. While that's happening, taste and season with salt and freshly milled black pepper. If you wish to keep the sauce warm, all you do is pour it into a warmed jug and cover the surface with clingfilm to stop a skin from forming, then place the jug in a pan of barely simmering water.
Recipe Tips
The flavouring in the milk makes the sauce very aromatic and distinguishes this sauce from a plain white sauce, which might have cheese or other flavourings added to it.