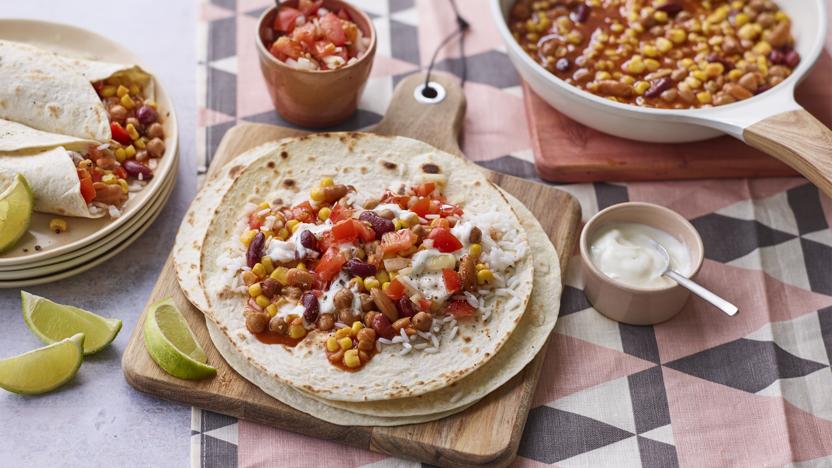 This budget vegetarian burrito uses tinned beans and frozen sweetcorn. You can even use a microwave to cook the whole recipe.

Each serving provides 733kcal, 24.5g protein, 128g carbohydrate (of which 11g sugars), 12g fat (of which 6g saturates), 13g fibre and 2.5g salt.
Ingredients
For the tomato relish
For the bean and rice burrito
Method
For the tomato relish, mix together all the ingredients for the relish in a bowl and season with salt and pepper. Set aside.

For the bean and rice burrito, heat a small frying pan over a medium heat and warm the beans through for 3-5 minutes, or cook for 1 minute in a microwave. Add the sweetcorn and mix well. Taste and add salt and pepper if necessary.

Warm the tortilla wraps for 10 seconds in a microwave or in a dry pan over a medium heat until warm and softened.

To assemble, divide the cooked rice and beans between the eight tortilla wraps. Squeeze a little lime juice over each of them. Spoon over the tomato relish and the yoghurt and roll up to enclose each burrito. Serve warm.
Recipe Tips
In May 2013 this recipe was costed at £3.09 at Asda, £3.39 at Tesco and £3.70 at Sainsbury's.
This recipe is designed to be made in conjunction with a
You can cook the rice in a microwave by covering with water and adding 4 minutes onto the suggested cooking time, make sure to keep topping up the water if it looks a little dry.