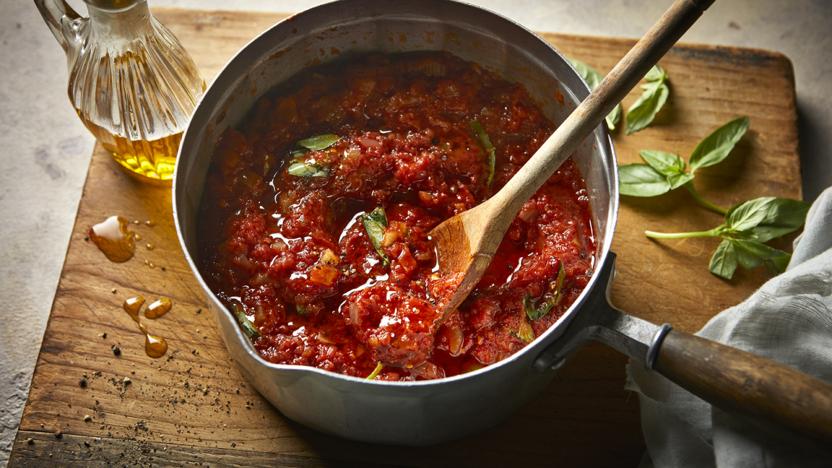 This is a really easy tomato pasta sauce recipe - vary the flavour by adding different ingredients (see Top recipe tip below).

Each serving provides 112kcal, 2.5g protein, 11.5g carbohydrates (of which 11g sugars), 6g fat (of which 0.8g saturates), 2g fibre and trace salt.
Method
Heat the oil in a saucepan and gently cook the onion and garlic until softened. Stir in the tomatoes, chilli flakes, balsamic vinegar and sugar. Bring to a simmer and cook slowly for 45 minutes-1 hour. Stir in the basil and season with salt and pepper. This can be left chunky or blended in a food processor for a smooth sauce.

Serve spooned over cooked pasta with plenty of Parmesan cheese.
Recipe Tips
Substitute the following as you prefer:
- 250g/9oz tub of mascarpone or cream cheese, either alone or with strips of smoked salmon
- chopped black olives and marinated artichokes
- fried bacon and mushrooms
- prawns, capers and chopped parsley
- chopped chicken, red onion and red peppers, fried in olive oil
- fried slices of chorizo sausage, chopped black olives and pieces of mozzarella cheese