Barbecue glazed langoustine
Homemade BBQ sauce adds a lovely glaze to langoustine. You could use the sauce on your favourite barbecue meat and other veg too.



Ingredients
For the barbecue sauce
For the glazed and grilled langoustine tails
To serve
Method
To make the BBQ sauce, add all the ingredients to a pan and cook for about 20 minutes. Remove from the heat, cool and then blend in a food processor or blender to make a smooth purée. Pass through a sieve to make the sauce even smoother.

To make the langoustine tails, prepare a bowl of iced water. Blanch the langoustines in a pan of boiling, salted water for about 20 seconds. Carefully remove from the pan and plunge into the iced water.

Hold the langoustine heads in one hand and the tail in the other and gently break off the head and discard it (or save for making stock). Use a small sharp knife to trim off the head end of the tail to neaten its appearance. Remove the shell and the dark intestinal tract along the length of each tail with the tip of the knife.

Preheat a griddle pan until hot.

Stick a water-soaked skewer into each langoustine lengthways to keep them straight. Brush each with a little barbecue sauce and cook for 2 minutes on each side.

To serve, heat a small frying pan over a medium heat and tip the nuts in. Cook until nicely toasted and then remove from the heat. Spoon a little crème fraîche into each lettuce leaf, top with the glazed langoustine and garnish with the spring onion, toasted cashews and pickled chilli.
This recipe is from...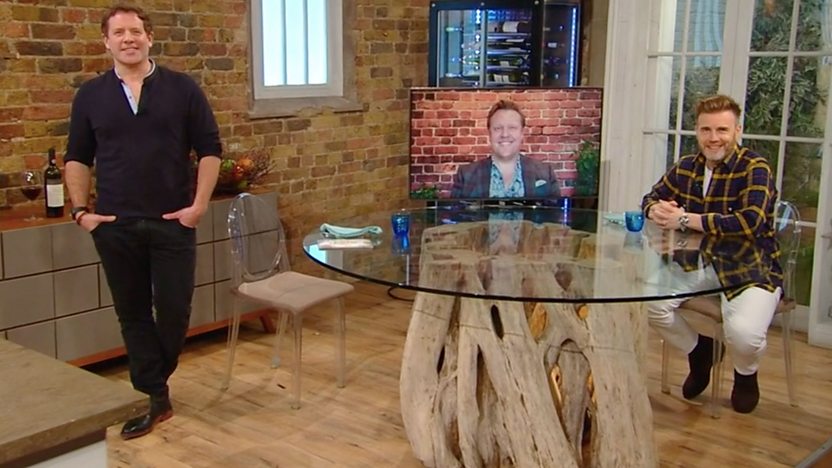 Saturday Kitchen
30/01/2021