Barbecue chicken and rice wraps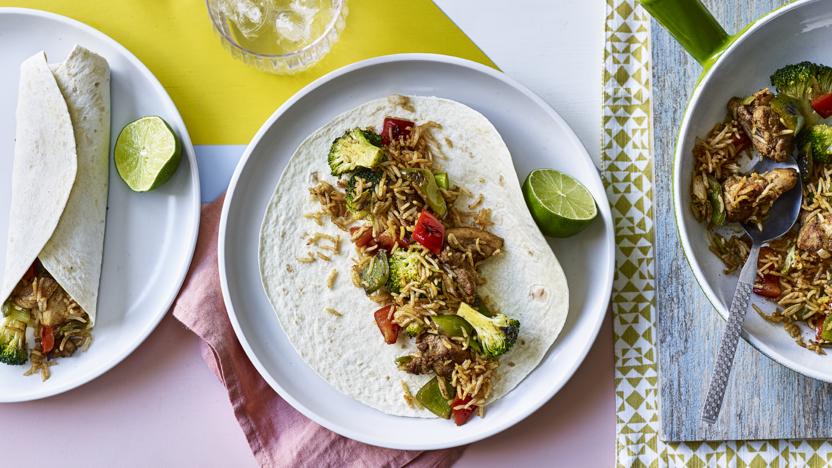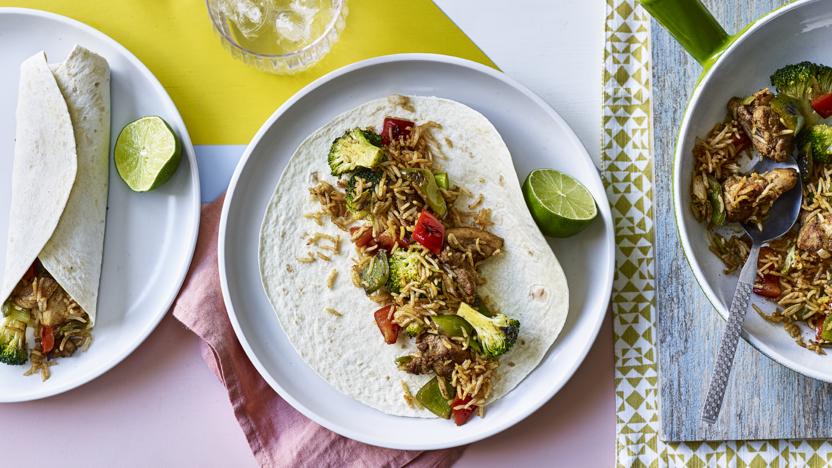 Make your own quick barbecue spice mix for these easy barbecue-style chicken and rice wraps and save a packet on, er, packets. Part of Rob's chicken meal prep series, also check out his speedy chicken couscous and chicken cashew curry for the full set.

Each serving provides 671 kcal, 39g protein, 77g carbohydrates (of which 12g sugars), 19g fat (of which 5g saturates), 15g fibre and 1.9g salt.

Ingredients
For the barbecue spice mix
For the filling
Method
Mix together the barbecue spice mix ingredients and season with salt and pepper.

Add half of the spice mix to the chicken and mix well.

Heat the olive oil in a frying pan over a high heat, add the chicken and brown all over. Check the chicken is cooked by removing a piece from the pan and cutting it open. If there is no trace of pink, the chicken is cooked. Transfer the chicken onto a plate and set aside..

In the same pan, add the broccoli and peppers and fry for 4 minutes. Add the spring onions and cook for 2 minutes. Add the rice, tomato purée, paprika, remaining barbecue seasoning mixture and a splash of water to the pan. Add the chicken back into the pan and cook for 3 minutes, stirring constantly.

Add a splash of lime juice at the end if you want some extra zing. Sprinkle over the coriander.

Microwave the wraps for 10 seconds to soften, then stuff with the rice and chicken and enjoy!
This recipe is from...
Recipes from this episode