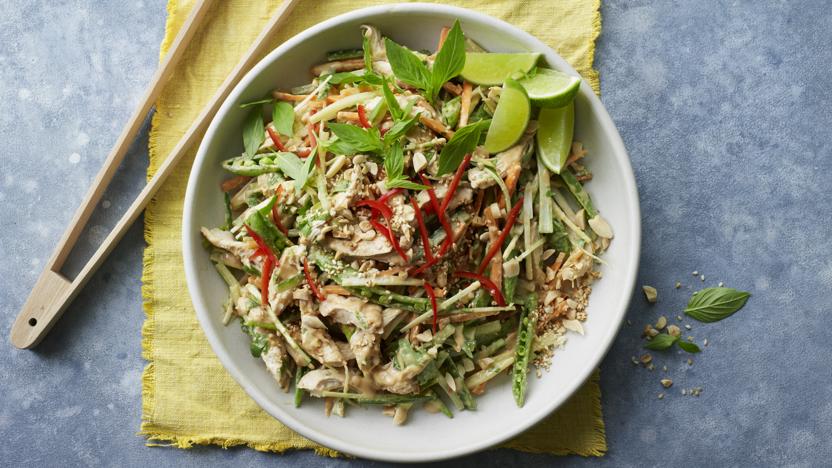 This vibrant bang bang chicken recipe is full of bold flavours from chilli, peanut and lime. Use leftover roast chicken, if you like, but the poached chicken in star anise and ginger is divine.
Ingredients
For the bang bang sauce
To serve
Method
Put the stock, ginger, Chinese five-spice, star anise, soy and chicken in a small saucepan and bring to the boil. Reduce the heat, cover and simmer for 12–15 minutes, or until cooked through. Remove the chicken to a plate and drain the stock through a fine sieve, reserving about 100ml/3½fl oz of the drained stock.

For the bang bang sauce, combine all the sauce ingredients in a small food processor. Whizz, adding the reserved stock a tablespoon at a time, until you have a sauce the consistency of pouring cream. Season to taste.

Mix the cucumber, carrot, sugar snap peas and spring onions in a large serving bowl. Shred the chicken into large pieces and add to the vegetables with the coriander or Thai basil leaves. Stir in the bang bang sauce and toss well.

Serve in 2 wide bowls or plates, garnished with the red chilli, peanuts and sesame seeds and served with lime wedges on the side to squeeze over.