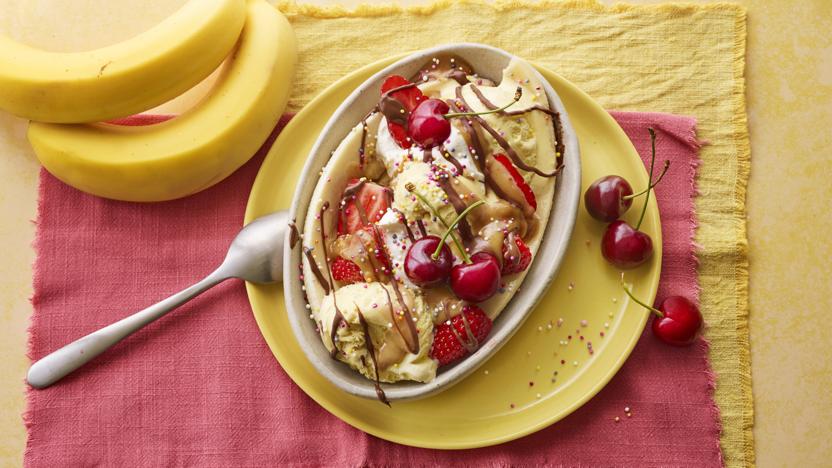 Banana splits are simple to make and one of the most fun and delicious desserts ever created! This version has vanilla ice cream, fresh fruit, whipped cream, melted chocolate and an irresistible salted caramel peanut sauce.
Ingredients
For the salted caramel peanut sauce
For the whipped cream
For the chocolate drizzle
For the banana split
Method
To make the sauce, melt the caramel sauce and peanut butter in a small saucepan over a low heat until it becomes runny. Keep warm.

To make the cream, lightly whip the cream and icing sugar in a bowl until just stiff. Set aside in the fridge.

To make the drizzle, melt the chocolate in a small glass heatproof bowl set over a saucepan of gently simmering water (known as a bain-marie or double-boiler). Allow the chocolate to melt gently in the bowl, stirring it often and making sure that the bowl isn't touching the water below.

To assemble the banana split, lay the banana halves in pairs in two long shallow dishes or on two plates. Nestle three scoops of ice cream down each split banana. Spoon or pipe three mounds of whipped cream in between the ice cream scoops. Scatter over the strawberries. Drizzle over the melted chocolate and salted caramel peanut sauce. Scatter over the sprinkles, top with the cherries and serve immediately.