Banana and bacon pancakes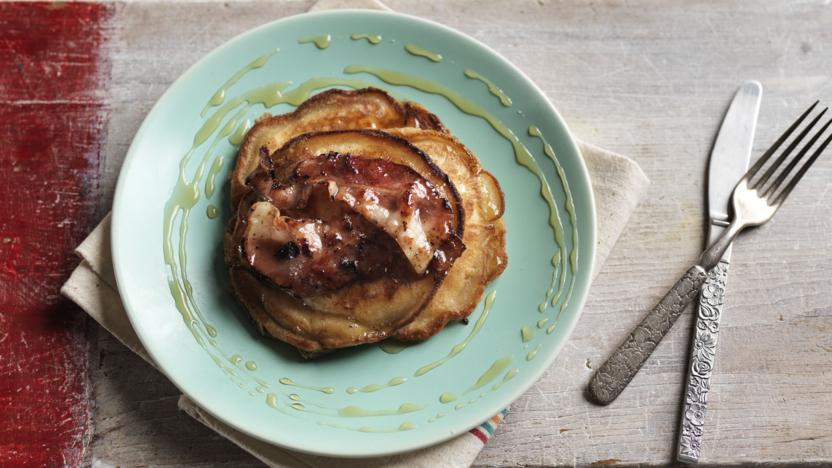 The Hairy Bikers' pancake recipe makes a brilliant brunch or simple supper. Omit the bacon and add blueberries for a veggie version.
Method
Preheat the oven to 110C/90C Fan/Gas ¼.

Melt 25g/1oz of the butter in a small pan over a low heat and leave to cool for 5 minutes.

Put the melted butter, flour, baking powder, eggs, sugar and milk in a food processor and blend until smooth (or beat together using a whisk). Pour into a large bowl and mash the banana into the batter using a potato masher or fork.

Melt a little of the oil with a cube of butter in a large non-stick frying pan over a medium heat. Wipe around the base of the pan with a thick wad of kitchen paper.

Drop four large serving spoonfuls of the banana pancake mixture into the frying pan, spacing well apart. Cook for 3 minutes, or until the pancakes rise, bubbles appear and the surface appears dry. Flip over with a palette knife and cook on the other side for a further 2-3 minutes, or until pale golden-brown.

Transfer to a heatproof plate and keep warm in the oven while you cook the remaining eight pancakes in exactly the same way.

Return the frying pan to the heat and add the streaky bacon. Cook for about 3 minutes on each side until golden and crisp, turning once. Add a splash of oil if the rashers begin to stick.

Pile the pancakes onto warmed plates and top with the fried bacon. Drizzle with a little maple syrup (or golden syrup) and serve.