Banana and chocolate muffins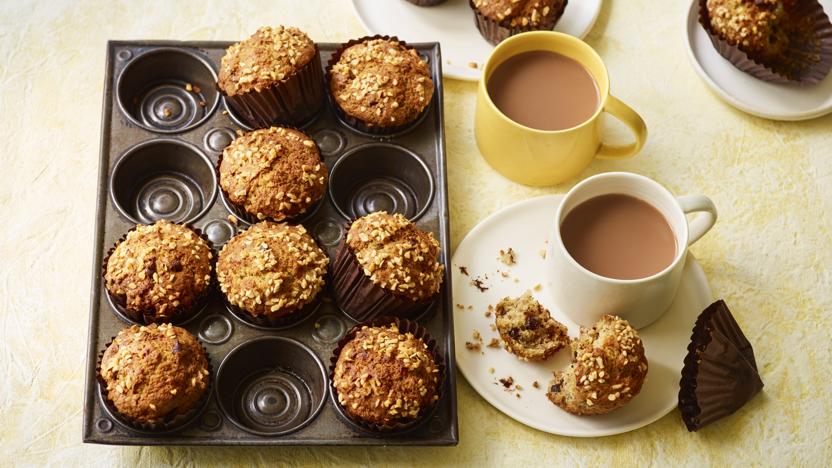 Banana and chocolate is an ever-popular combination, and these muffins can be ready in just 20 minutes to satisfy your sweet cravings.
Method
Preheat the oven to 220C/200C Fan/Gas 7 and grease a 12-hole muffin tin using a little of the oil (or line the holes with paper cases).

Melt the butter in a microwave or small saucepan then leave to cool for a couple of minutes.

Combine the flour, bicarbonate of soda, baking powder, cinnamon, sugar, chocolate chips and salt in a large bowl.

Place the melted butter, oil, milk, egg and vanilla in a separate large bowl and whisk until well mixed. Stir in the mashed banana and then tip into the bowl of dry ingredients. Fold together gently with a big metal spoon or spatula until all the flour is just wet but before the mixture becomes smooth – do not over mix.

Divide the mixture between the holes in the muffin tin. Top with the seeds or nuts, if using. Bake for 13–15 minutes until golden on top and a skewer poked into the centre of a muffin comes out clean. Leave to cool on a wire rack and eat slightly warm or at room temperature. They can also be stored in an airtight container for up to two days or in the freezer for up to two months.
Recipe Tips
If you just can't wait for your bananas to ripen up to make these moreish muffins, simply put them in the freezer overnight. After they have defrosted, they will be perfectly soft and squishy for baking with.
Slightly older muffins are delicious when refreshed in a microwave for 5–10 seconds.