Balsamic-glazed sesame salmon with spicy cherry tomatoes and spinach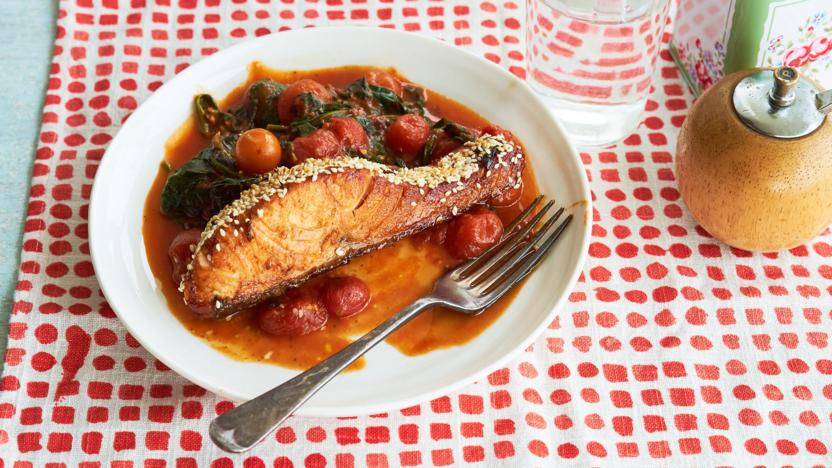 A sweet and flavourful way to cook salmon with spicy tomato sauce. Serve with pasta, rice, or even crusty bread.

Ingredients
For the salmon
For the tomatoes
Method
Preheat the grill to high.

Season the salmon fillet with sea salt and freshly ground black pepper. Heat the oil in an frying pan add the salmon skin-side down and cook for 2minutes, then turn and cook for a further minute. Pour over the vinegar and continue to cook for 2 more minutes.

Transfer the salmon to a grill pan lined with foil, skin side-down. Drizzle over the honey and sprinkle with the sesame seeds, then place under the grill and cook for 3-4 minutes, or until cooked through.

Meanwhile, for the tomatoes, heat the oil in a large frying pan. Add the spinach and gently fry for two minutes. Add the tomatoes, chilli flakes and extra oil and allow to simmer and reduce for 2-3 minutes, until thickened. To serve, place the spinach onto a warm plate and top with the salmon. Pour over the pan juices.