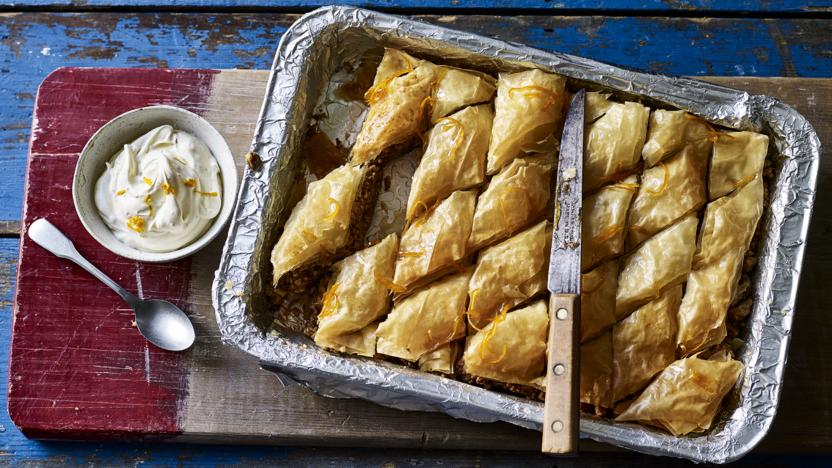 This wonderfully sticky baklava tastes amazing with freshly made mint tea or Turkish coffee, but it's generous enough to serve as a dessert.
Ingredients
For the filling
For the pastry
For the syrup
For the orange and cardamom cream
Method
Preheat the oven to 180C/160C Fan/Gas 4.

For the filling, grind 150g/5½oz of the walnuts quite finely, but not quite to a powder – you want a texture similar to ground almonds. Chop the remaining walnuts and mix with the ground walnuts. Add the cinnamon, orange zest and a generous pinch of salt. Stir in the melted butter and set aside.

Line a large baking tin, around 30x25cm/12x10in, with two pieces of baking paper that cross over one another so it overhangs on every side. This will help to remove the baklava later.

For the pastry, brush the paper with butter. Take the filo pastry and trim to fit the base of the tray – you will probably need two sheets to cover the tray. Cover the base of the tray with the filo and brush with more butter. Repeat until you have six layers.

Sprinkle the nut filling over the filo as evenly as possible but do not press down too much – it should not be too compressed. Top with more filo and butter and repeat until there are another six layers on top.

Score the baklava into small diamonds by cutting just through to the filling in parallel lines. Bake for around 35 minutes until the top layer of pastry is a rich golden brown. Remove the baklava from the oven and leave to cool.

Meanwhile, make the syrup. Put the sugar, honey and orange zest in a saucepan with 150ml/5fl oz water. Heat gently until the sugar and honey have melted and then simmer for around 10 minutes until the consistency is syrupy. Pour the syrup evenly over the pastry. Leave to cool completely, for at least an hour and preferably for a few hours if possible.

For the orange cream, put the cream in a large bowl with the orange zest. Whisk by hand or with an electric whisk until the cream is soft and billowy. Mix the icing sugar with the cardamom powder and stir this through the cream.

Remove the baklava from the tin and cut back through the scored lines, this time cutting through to the base. Use a metal dough scraper or a long knife so you can just press down instead of pulling through. Serve with the orange cream or store in an airtight container.
This recipe is from...
Recipes from this episode