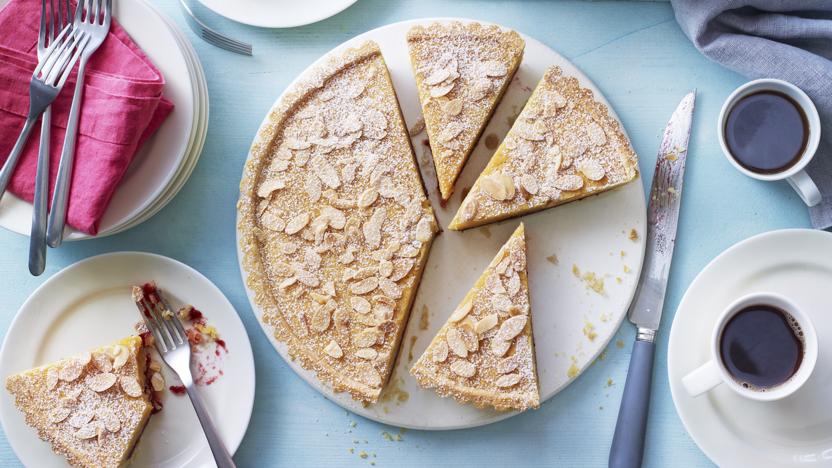 Once you've made your own Bakewell, you'll never go back to shop-bought. If raspberries aren't in season, use good-quality ready-made jam.
Ingredients
For the pastry
For the raspberry jam
For the frangipane
Method
Preheat the oven to 190C/170C Fan/Gas 5. To make the pastry, sift the flour and salt into a bowl. Rub in the butter with your fingertips until the mixture resembles fine breadcrumbs. Stir in the sugar.

Add the cold water, a little at a time and, using a table knife, start bringing the pastry together. If the mixture is too dry to hold together, add just enough extra cold water to bring it together. Do not overwork or make the pastry too sticky or it will become tough. Shape into a disc, cover with cling film and chill in the fridge for at least 10 minutes.

To make the raspberry jam, place the raspberries in a saucepan and heat gently until they start to soften. Add the sugar and lemon juice and heat gently, stirring, until the sugar has dissolved. Bring to the boil and cook for 8–10 minutes, stirring occasionally. Remove from the heat and allow to cool slightly.

While still hot, carefully strain the jam through a sieve into a large bowl.Place the bowl on top of a bowl of iced water, stirring occasionally, until completely cooled.

Unwrap the pastry and roll out on a lightly floured work surface to a large circle about 3mm thick. Transfer the pastry on the rolling pin to a 23cm/9in loose-bottomed tart tin, pressing it into the corners and allowing excess pastry to hang over the edge. Chill in the fridge for 10 minutes.

Place the lined tart tin on a baking sheet. Prick the base with a fork several times, then line the pastry case with baking paper and ceramic baking beans or dried beans. Bake for 20 minutes. Remove the beans and paper and continue to bake the case for a further 5–8 minutes, until pale golden in colour. Leave to cool. Trim off the excess pastry with a sharp knife. Reduce the oven temperature to 180C/160C fan/Gas 4.

To make the frangipane, beat the eggs, yolks and sugar together, then mix in the melted butter, ground almonds and almond extract.

Spread 8 tablespoons of the raspberry jam on the base of the pastry case, top with the frangipane to create an even layer that covers the jam.

Bake for 35 minutes, or until the filling is golden-brown and a skewer inserted in the centre comes out clean. Leave to cool.

Put the flaked almonds on a baking tray in a single layer and bake for 2–3 minutes, or until golden and aromatic. Tip them out onto kitchen paper to leave to cool. Garnish the tart with a light dusting of icing sugar and the toasted flaked almonds.
This recipe is from...
Recipes from this episode