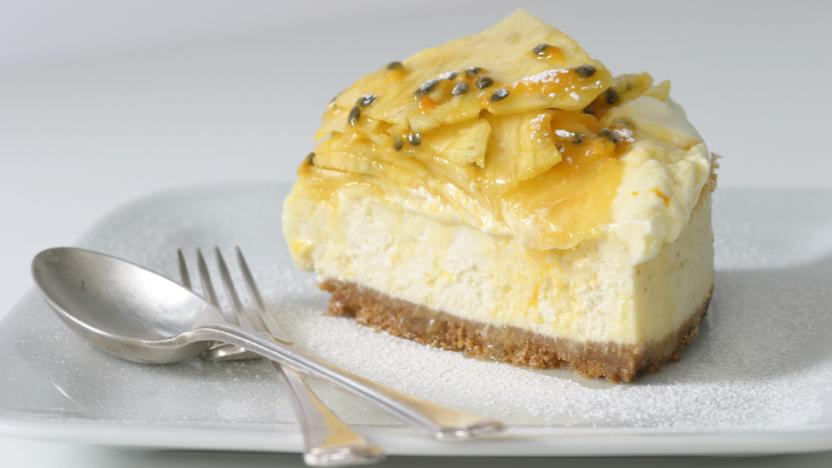 Go totally tropical with a zingy lime cheesecake paked with a topping of pineapple and passionfruit.
Ingredients
For the base
For the filling
For the topping
Method
Preheat the oven to 150C/300F/Gas 2. Break up the digestive biscuits and the ginger biscuits and place them into the bowl of a food processor.

Place the butter in a heavy-based pan and melt gently.

Process the biscuits in the food processor, until the mixture has the consistency of fine breadcrumbs.

Line the base of a 24cm/9in-10in loose-based spring-form cake tin with a round of greaseproof paper. Brush the bottom of the tin with some of the melted butter and place the round of greaseproof paper in the base.

Add the remaining melted butter to the biscuit crumbs in the food processor and process again briefly.

Tip the crumbs into the bottom of the cake tin. Using the back of a spoon, gently push the crumbs from the centre outward, until smooth and level. This will form the base of the cheesecake.

Bake the cheesecake base in the oven for 10-15 minutes until it's lightly browned and just set. Remove from the oven and allow to cool for at least five minutes.

Meanwhile, make the filling. Place the cream cheese, cream, sugar and eggs in a large bowl. Using a grater, grate in the zest of the limes. Using an electric whisk, beat together on a low speed, until smooth.

Carefully pour the filling onto the cooled base. If making the cheesecake in advance, you can prepare it to this stage, then chill in the refrigerator and bake the next day (allowing it to first reach room temperature).

Return the cheesecake to the oven and bake for about one hour, or until just set. Allow to cool completely, then place in the fridge and chill for about an hour.

Carefully remove the cheesecake from the tin and place on a serving plate, using a palette knife to loosen the cake base from the bottom of the tin.

For the topping, use a sharp serrated knife to remove the top and bottom of the pineapple. Cut away the tough outer skin from the pineapple and cut in half lengthways. Using a mandoline, thinly slice half of the pineapple (be sure to use the finger guard if the mandoline has one). Reserve the other half for use in another dish. Place the pineapple slices into a bowl.

Cut the passion fruit in half and scoop out the pulp with a teaspoon. Add to the bowl with the pineapple and toss together well.

Whip the cream in a clean bowl with a hand whisk. When soft peaks form, add icing sugar, to taste, and whisk gently until well blended.

To serve, spread the sweetened cream over the surface of the cheesecake and pile on the fresh fruit. Pour over the passion fruit juice from the bowl. Dust with icing sugar and serve in generous slices.