Baked Cornish cod piperade, Cornish mussels and basil mayonnaise
Basque in the heady flavours of quick-salted baked cod, mussels, chorizo and chickpeas in this flavour-packed fancy fish stew made with West Country ingredients.



Ingredients
For the basil mayonnaise
Method
Lightly sprinkle sea salt over the cod fillets on a baking tray in a cool place. Cover and refrigerate for 1 hour, then lightly wash off the excess salt and pat dry.

Discard any mussels with broken shells and any that refuse to close when tapped. Place an ovenproof casserole dish on the heat. Once hot, add the mussels and wine. Steam the mussels until the shells are wide open, and discard any mussels that remain closed.

Remove the mussels from the liquid using a slotted spoon, reserving both the mussels and liqour.

Place the casserole dish back on the heat and add a little oil. Fry the chorizo until crisp, then remove from the pan with a spoon, leaving the flavoured oil behind.

Add the onion and fry it in the orange oil. Add the peppers, chilli, garlic and smoked paprika and continue to fry. Tip in the tomatoes, with the vine, and cook until they start to go mushy.

Add the passata, chickpeas, reserved mussel liquor and chorizo and bring to a simmer. Cook for about 10 minutes, or until the stew is nice and thick.

Preheat the oven to 180C/160C Fan/Gas 4.

To make the basil mayonnaise, mix together all the ingredients in a bowl and set aside.

Once the stew has thickened, arrange the cod on top, put a lid on the pan and place in the oven.

Cook for 6–7 minutes, then check if cooked. The flesh should be glossy and flaky.

Season the stew with cracked pepper, chopped basil and a dollop of basil mayonnaise. Remove the tomato vine and serve with the mussels.
This recipe is from...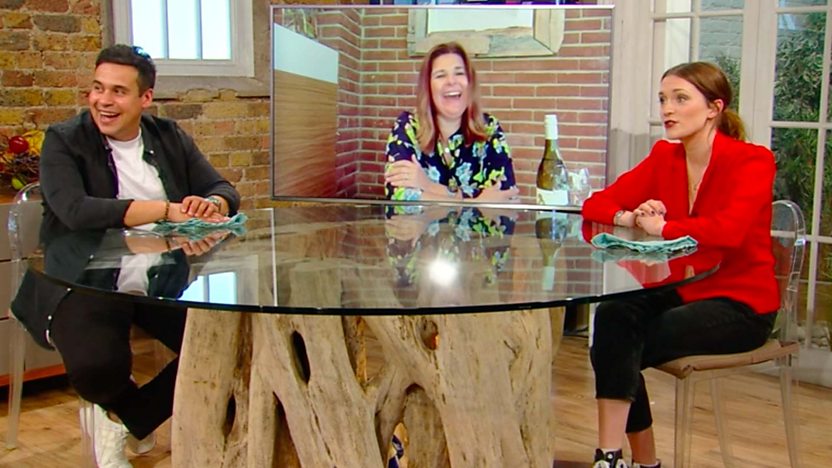 Saturday Kitchen
12/09/2020