Baked turkey and spinach samosas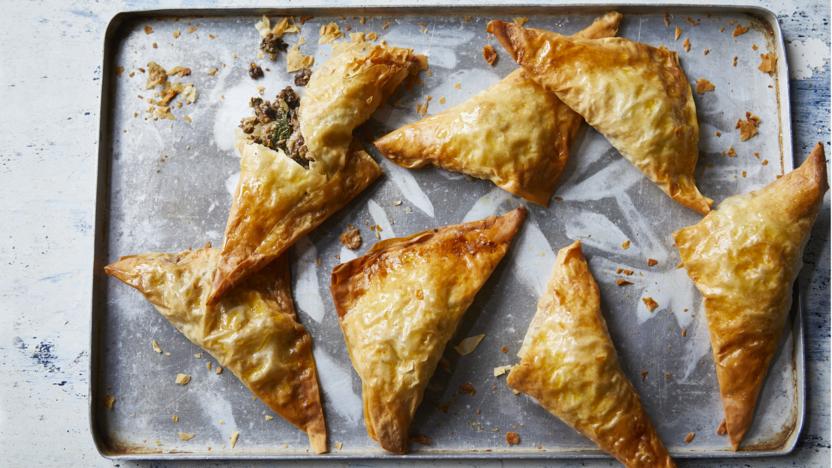 These baked turkey samosas are packed with flavour and crunch and much healthier than regular deep-fried lamb samosas. You can swap the turkey for chicken if you prefer.

Each samosa provides 153 kcal, 14g protein, 14g carbohydrate, 4g fat, 2g fibre.
Method
Heat the oil in a large frying pan over a medium heat. Add the onions and cook for minutes until light golden. Add the garlic and ginger and cook for 2 minutes. Stir in the garam masala and cook for 2 minutes.

Add the chicken mince, season well with salt and pepper and cook for 5 minutes, breaking it up with a wooden spoon as it cooks. Add the lentils and spinach and cook for 2–3 minutes, until the spinach has wilted. Season with salt and pepper and leave to cool completely.

Preheat the oven to 220°C/Fan 200°C/Gas 7. Line 2 baking trays with silicone mats or baking paper.

Cut the filo sheets in half, to give 2 long rectangles (14 strips in total). Keep the filo you aren't working with covered with a lightly dampened clean tea towel.

Lay a filo rectangle on your work surface with a short edge facing you and spray it well with oil. Put 3 tablespoons of the filling at the bottom left-hand corner and shape it into a rough triangle. Fold over the right half of the filo sheet, then fold the bottom left corner over the filling to make a triangle. Keep folding over and upwards, forming triangles, until you reach the top. Seal with a little oil spray and transfer to the lined baking tray. Repeat with the remaining filling and pastry.

Spray the samosas liberally on both sides with oil, then bake for 10–15 minutes or until evenly golden brown.
This recipe is from...
Recipes from this episode