Baked beans with bubble and squeak hash browns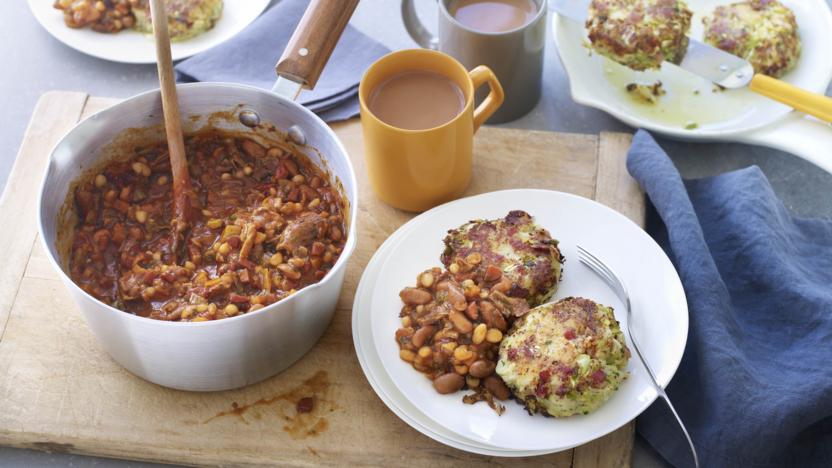 Take your baked beans and hash browns up a level with salty pancetta, rich porcini mushrooms, and umami paste.
Ingredients
For the hash browns
For the beans
Method
To make the hash browns, bring a large pan of salted water to the boil and cook the potatoes for 15–20 minutes, or until tender. Drain and roughly mash with the cream. Season and set aside.

Place a frying pan over a medium heat and add the butter. Fry the pancetta and thyme until crispy. Remove with a slotted spoon and add to the mash.

Add the cabbage to the same pan with a dash water, cover and cook for 2–3 minutes, or until the cabbage is just tender. Stir into the mash with the herbs and mustard. Season, leave to cool completely and then refrigerate.

Meanwhile, to make the beans, place the mushrooms into a bowl and cover with boiling water to rehydrate. Drain and chop finely.

Place a large pan over a medium heat with the oil and butter. Fry the pancetta, thyme, bay leaves, pepper and rosemary until brown and starting to crisp. Remove with a slotted spoon and discard. Add the onion, carrot and celery to the pan and fry for 10 minutes, or until softened. Add the mushrooms, garlic and cinnamon stick for 1 minute. Add the red wine and simmer until reduced by half. Add the tomato purée, umami paste, sugar, stock and passata and bring to the boil until reduced by half again. Stir in the paprika and beans and heat through.

Divide the cooled potato mixture into 10 equal peices and shape into patties.

Heat a layer of oil 1cm deep in a non-stick pan over a high heat and fry the hash browns for 2–3 minutes on each side, or until golden and piping hot (CAUTION: hot oil can be dangerous. Do not leave unattended.).

Stir the fresh herbs through the beans, remove the cinnamon stick and serve with the hash browns.