Back-to-front baked cheesecake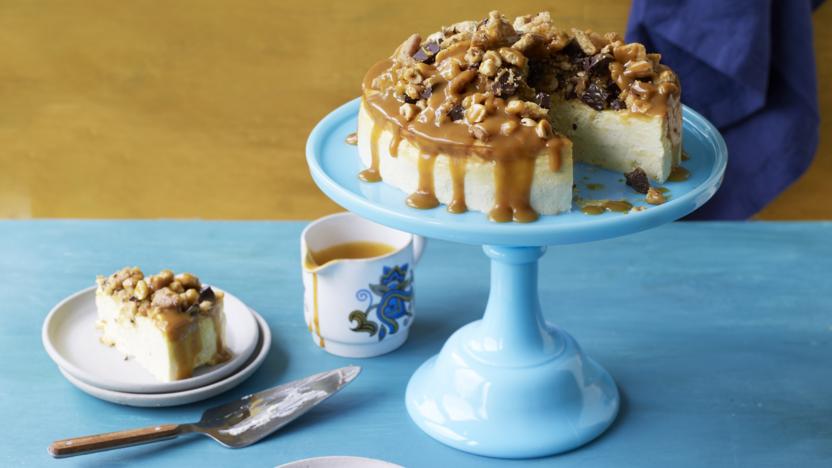 Nadiya's back-to-front cheesecake has its base on the top as a chocolatey tiffin mixture. All the best cakes are a little back-to-front!
Ingredients
For the cheesecake
For the honey salted caramel
For the tiffin crumble
Method
Preheat the oven to 160C/140C Fan/Gas 3. Grease the base of a 20cm/8in round cake tin (not loose-bottomed), and line it with baking paper.

Put the cream cheese, sugar, soured cream, flour, eggs and vanilla paste into a large bowl and give it all a good mix, just for a minute or so, until it is all well combined. You don't want to mix for too long and incorporate any air.

Pour the mixture into the prepared tin, tap it on the worktop to release any trapped air, then level the surface. Bake on the lower shelf of the oven for 1 hour.

As soon as the hour is up, open the oven door, leaving it slightly ajar. Pop a wooden spoon in the door to keep it just open and let out the heat slowly. Now turn the oven off.

Don't take the cheesecake out until the oven is completely cold – this recipe is more about patience than anything else. Once the oven is cool, put the cheesecake into the fridge to chill overnight.

The following day, make the honey salted caramel. Melt the butter in a small pan over a medium heat. Add the honey and cook on a medium– high heat for 10 minutes, until the caramel is golden brown. If it starts to catch, turn the heat down slightly.

After 10 minutes, pour in the cream, give it a mix and allow it to just come to the boil. Take off the heat and stir in the salt. Set aside.

For the tiffin crumble, put the biscuits into a zip-lock bag and crush them very roughly. I like a good mix of big pieces, small bits and lots of crumbs. Empty into a bowl.

Melt the butter and pour it onto the biscuits. Leave to cool for about 10 minutes, while you take the cheesecake out of the fridge and turn it out on to a serving plate or platter.

Add the sugar, chocolate and hazelnuts to the buttery biscuit chunks.

Now for the back-to-front bit. Put the tiffin mixture on top of the cheesecake, but not in any neat fashion or packed tightly, just piled on top in peaks and troughs.

Reheat the caramel if it has cooled too much, and serve with slices of cheesecake and crumble.
This recipe is from...
Recipes from this episode