Aubergine chips with fennel yoghurt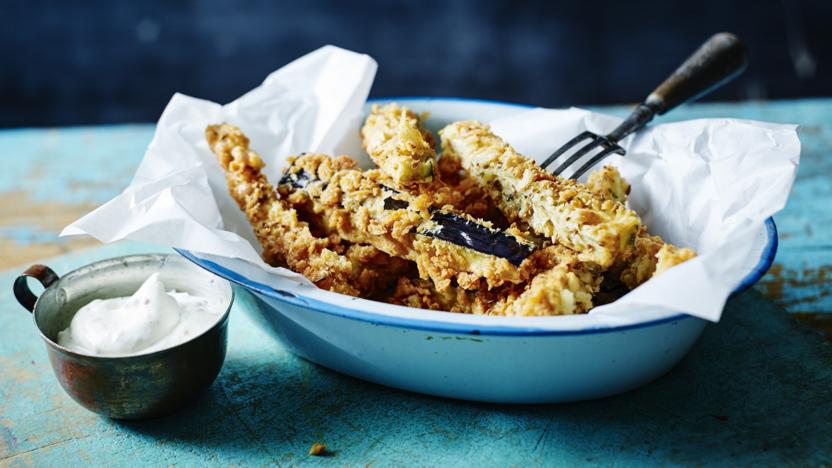 Crispy aubergine is wonderfully paired with fennel yoghurt in this flavourful vegetarian dish.

Ingredients
For the fennel yoghurt
For the aubergine chips
Method
Toast both lots of coriander and fennel seeds by putting all 6 teaspoons in a non-stick frying pan and dry fry for a few minutes until you can smell them. Remove and grind in a mortar and pestle.

Add 2 teaspoons of the ground seeds to the yoghurt and combine with the remaining yoghurt ingredients.

For the aubergine chips, mix the flour, salt and pepper in a bowl. In a second bowl beat the eggs. In a third bowl mix the breadcrumbs, the remaining ground seeds and the sesame seeds.

Dip the aubergine chips in the flour and cover well. Shake off the excess and then dip into the egg and shake off any drips and finally coat in the breadcrumbs. Set aside but do not put in the fridge.

Heat the oil in a deep fat fryer or a deep-sided, heavy bottomed pan to 190C, or until a breadcrumb sizzles and turns golden-brown when dropped into it. (CAUTION: hot oil can be dangerous. Do not over-fill the pan or leave unattended). Fry the aubergine in batches for 2-3 minutes until golden-brown. Remove and drain on kitchen paper.

Sprinkle with salt and serve with the fennel yoghurt.