Braised shin of beef with hot and sour shredded salad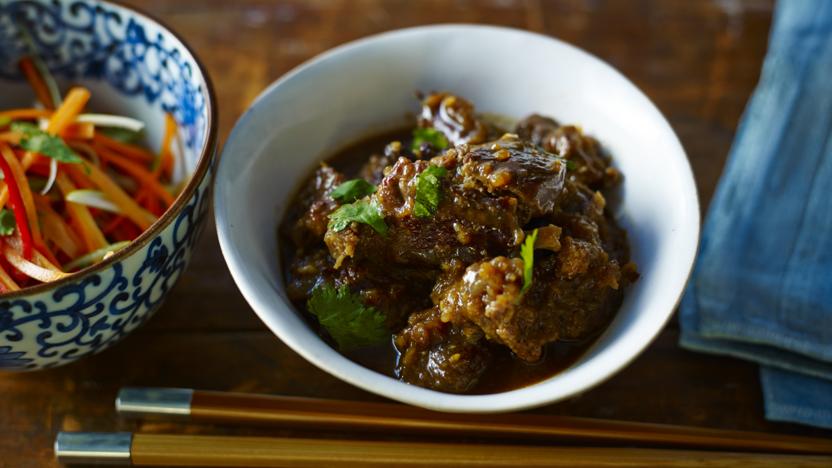 The point of a stew, it should go without saying, is its flavour rather than its form. So, while the crunchy salad strips of carrot, spring onion and pepper do bring colour and beauty to this otherwise brown study, at the same time their texture and Asian-flavoured bite provide the perfect partner for the rich, aromatic spiciness of the soft-braised stew.

Ingredients
For the beef
For the salad
For the salad dressing
Method
Preheat the oven to 150C/300F/Gas 2.

For the beef, blend the onions, ginger, garlic and coriander in a food processor until well combined and finely chopped.

Heat the oil in a large casserole or ovenproof frying pan and fry the mixture over a medium heat, stirring regularly, until soft and beginning to catch in the pan; this should take about 10 minutes.

Pour in the Chinese wine (or sherry) and let it bubble up. Add the soy sauce, brown sugar, stock, oyster sauce and rice wine vinegar and bring to a boil, then drop in the cinnamon sticks and star anise.

Add the pieces of beef shin and let everything come up to a bubble again, then clamp on a lid and put into the oven for 2 hours (or longer if using regular stewing steak).

Take the casserole carefully out of the oven and, using a slotted spatula, remove the beef to an ovenproof dish. Cover with foil and keep warm in the oven while you vigorously boil the sauce in the casserole (or pan) on the hob, without a lid, until it has reduced by about half.

For the salad, combine all the julienned vegetables and the chopped coriander in a bowl.

For the salad dressing, mix the lime juice, fish sauce and caster sugar in another bowl and dress the vegetables with this.

To serve, arrange the beef on a serving platter and pour the reduced sauce over the meat. If you are using cubes of stewing steak, rather than slices of shin, you'd probably do better to use a deeper dish. Dress the top of the beef with the hot and sour shredded salad.
Recipe Tips
I advise you to make the salad at the last minute. You could use half the salad to cover a platter of Asian-style stew and let people strew more on their plates as they eat.
The beef can be made in advance. Cook the beef for 1¾ hours, then transfer to a bowl to cool (the beef can also be frozen at this point, if desired). Cover, refrigerate and store in the fridge for up to 2 days. When ready to use, return the beef to a casserole dish and heat gently until the sauce is just boiling. Cover and return to the oven for 30 minutes, or until the beef is piping hot. Transfer the meat to an ovenproof dish and finish as directed.