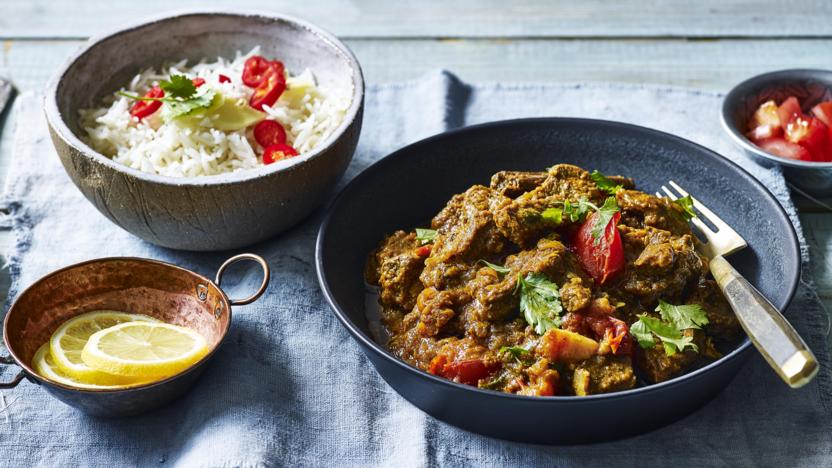 Shatkora looks like a large knobbly lime and can be bought frozen as well as fresh from Asian supermarkets. It adds a lovely citrus zing to this rich curry and can be substituted with orange peel.
Ingredients
To serve
basmati rice, cooked according to packet instructions
garnishes such as thinly sliced ginger, sliced chilli, coriander, dill, lemon slices or tomatoes
Method
Heat the oil in a large, heavy bottomed, non-stick saucepan. Add the whole spices (cinnamon, bay leaves, cardamom, star anise and fenugreek seeds) and heat gently, swirling in the oil to release the flavours. Add the salt.

Stir in the onions, garlic and ginger pastes, continuing to stir and cook on a medium heat until the onions are soft and just starting to colour. Add the meat and brown all over in the spice and onion mixture, this will take approximately 10 minutes.

Add enough water to fully cover the meat (approximately 750ml/1¼ pint). Stir and bring to the boil before reducing the heat and simmering uncovered for 30 minutes, stirring frequently.

Add a generous pinch of shatkora or orange rind slices (around 6-8 little slithers) to the pan and stir. Add the chilli powder, turmeric, coriander, cumin and garam masala. Stir in the tomato purèe. Add a little more water, cover with a lid and cook on a gentle simmer for 1½–2 hours, or until the meat is tender. Remove the lid for the last 10 minutes to reduce and thicken the sauce.

Finally add the tomato wedges and a handful of coriander and simmer for a few minutes before serving. Serve with rice and your choice of garnishes.
Recipe Tips
Prepare the shatkora by cutting it into wedges and removing the pith and seeds. Cut a strip of peel into small slices. You only need the peel for this curry, set the rest aside for another usage. (Orange peel would be a good replacement if shatkora is not available.)
This recipe is from...
Recipes from this episode