Arancini with ragu (arancine al ragù)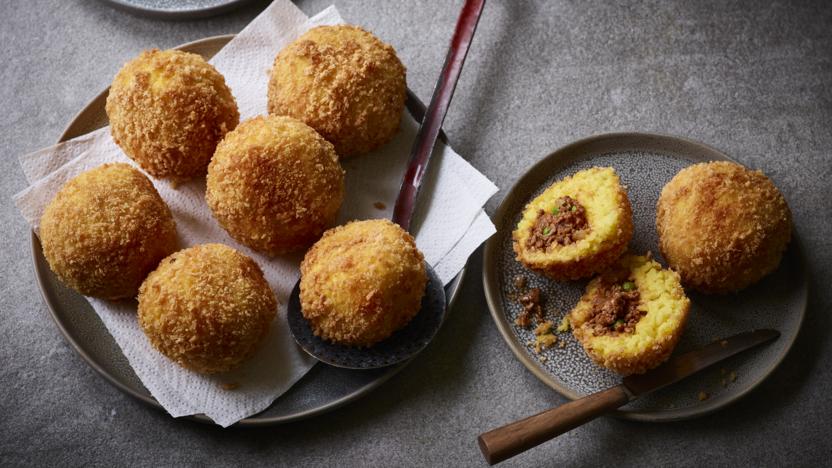 Arancini translates as 'little orange', which explains the size and colour of these filled rice balls. The rich meat ragu filling is a classic and much loved all over Italy.

The arborio rice adds creaminess and the carnaroli rice adds a more distinct texture, but you could use just one variety.
Ingredients
For the ragu
For the rice balls
Method
To make the ragu, heat the oil in a heavy-bottomed frying pan over a medium heat. Fry the chopped vegetables and herbs until soft and translucent. Add the beef, using the back of the spoon to break it up, and cook until completely browned. Add the wine, increase the heat and allow to bubble. Stir in the passata and season with salt and pepper. Reduce the heat and simmer for 30 minutes. Add the peas and simmer for another 30 minutes. Once the mixture is thickened, season with salt and pepper, to taste, and leave to cool.

To make the rice balls, put the stock in a large saucepan, add the saffron and bring to the boil. Add the rice and cook until all of the stock has been absorbed and the rice is cooked – it should be sticky and al dente, but not stodgy. Beat in the butter and cheese. Set aside until cool enough to handle.

Take 100g/3½oz of the rice mixture and place in a cupped hand. Use your other hand to shape the rice into a cup with a deep hollow, pressing the rice down so that the cup is 1cm/½in thick. Put 50g/1¾oz of the ragu in the hollow. Take another 30g/1oz of the rice and mould it using your hand to form the top of the cup so it looks like a smooth, sealed ball. Repeat to make eight large balls.

Place the eggs and breadcrumbs in wide bowls. Dip the balls first in the egg, then in the breadcrumbs to completely coat. Leave to chill for at least 30 minutes and up to 24 hours in the fridge. Remove from the fridge and bring back to room temperature at least an hour before frying.

Preheat a deep-fat fryer to 180C. Deep-fry the balls for 6–8 minutes, or until dark golden-brown. Transfer to kitchen paper to drain and then serve while still hot.
Recipe Tips
The trick is to mould the rice carefully in your cupped hand to create a hollow that holds as much ragu as possible and then close the mould carefully, shaping as if you were cradling a ball. Once shaped and crumbed, it can be kept for up to 2 days in the fridge before frying.