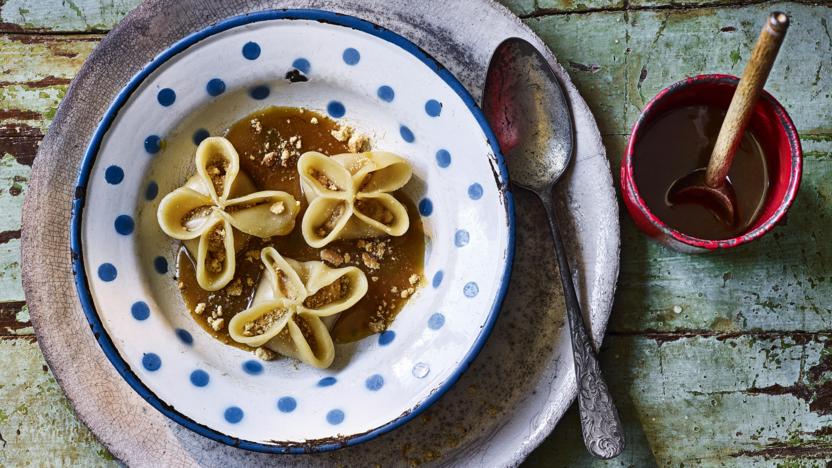 This pretty dessert looks like small flowers and is complemented wonderfully by the saffron caramel sauce.
Ingredients
For the filling
For the pastry
For the sauce
Method
To make the filling, place the apple, ghee, sugar and cinnamon in a saucepan and cook over a medium–high heat for about 30 minutes, or until the apple has softened and the mixture is quite dry. Turn off the heat and stir through the ground almonds, lemon zest and chopped walnuts. Tip into a bowl and leave to cool completely.

To make the pastry, place the flour in a bowl and pour in the oil. Gradually pour in 100ml/3½fl oz water, mixing constantly with your hands until you have a fairly firm dough (you may not need all the water). Tip out onto a lightly floured surface and knead until you have a smooth, stretchy dough. Roll the dough into a ball, place in a clean bowl, cover and leave to rest for 10 minutes.

Place the dough on a lightly floured surface. Divide the dough into 16 equal pieces. Take one of the pieces and roll out into a circle about 9cm/3½in in diameter. Drop a heaped teaspoon of the apple mixture in the centre of the circle.

Pinch small folds on opposite sides of the circle, pull them together (over the filling) and pinch them together at the top to hold them in place. Repeat the pinching again with the unfolded sides and gently push into the centre to create a four-petal flower shape. Using your fingers, pinch the dough together to reinforce the shape of the momo and gently tease the holes open (if necessary). Repeat the process with the remaining dough and filling.

Lightly grease the bowl of your steamer and add the momos. Cook for 9 minutes, or until the dough is cooked through.

To make the sauce, place the ghee, sugar and cream in a small saucepan and melt together over a medium heat. Turn the heat up and bring the sauce to a low simmer. Cook for 1 minute then stir in the saffron and take the sauce off the heat.

Pour the sauce onto a wide serving bowl and place the momos on top. Decorate with the crushed biscuits and saffron.
This recipe is from...
Recipes from this episode