Apple crumble with cardamom custard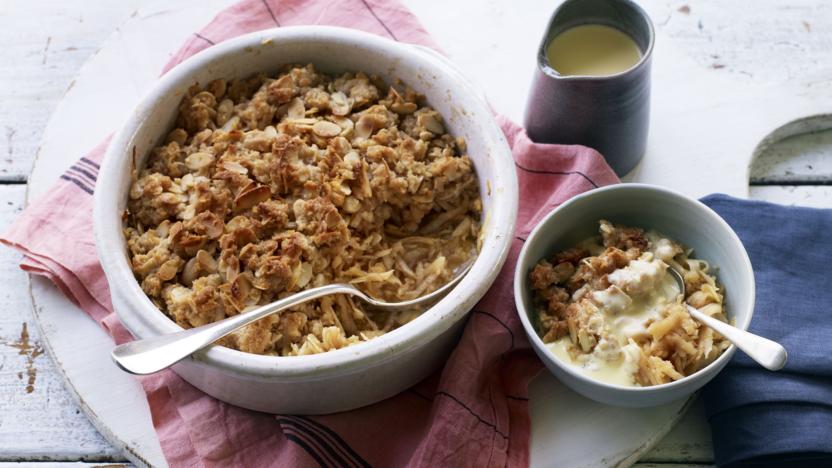 The apples require no pre-cooking for this simple crumble, and the cardamom-infused custard is a wonderful twist on a classic.
Ingredients
For the cardamom custard
Method
Preheat the oven to 180C/160C Fan/Gas 4. Beat the butter and sugar together in a large bowl.

Mix together the flour, almonds, cinnamon and breadcrumbs in another bowl. Tip this into the butter-sugar mixture and rub in with your fingers to form a thick, crumbly dough.

Put the grated apples into a 20cm/8in square ovenproof dish. Spread the crumble mixture on top and bake for 30 minutes, or until brown.

Meanwhile, to make the cardamom custard, grind the cardamom seeds to a powder using a pestle and mortar,. Place a heavy-bottomed saucepan over a medium heat and add the cream, cardamom and vanilla. Bring to the boil, reduce the heat and simmer for 3 minutes. Set aside to cool slightly, then strain into a bowl using a fine sieve.

Whisk the egg yolks, sugar and cornflour together in a large bowl. Pour in the warm cream mixture, whisking constantly. Pour this mixture back into the saucepan and cook over a low heat for 6–8 minutes, or until the custard thickens.

Serve the warm apple crumble with the cardamom custard.