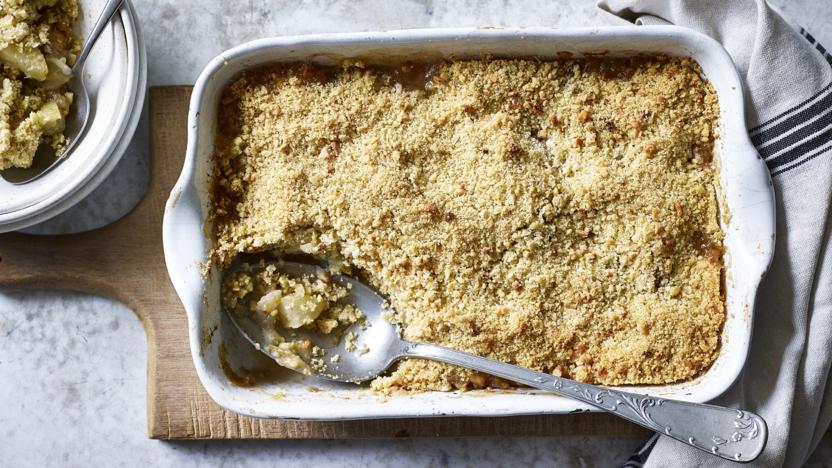 In this crumble, the cooking apples collapse to a purée that is a nice contrast to chunks of cooked pear. Use any kind of pear; windfalls and firm ones are fine. Demerara sugar adds a good crunch to the topping, as well as flavour.
Ingredients
For the crumble topping
For the filling
Method
Preheat the oven to 190C/170C Fan/Gas 5.

To make the crumble topping, put the butter in a large mixing bowl and add the flour. Use the tips of your fingers to rub the butter into the flour until you have a texture like large breadcrumbs. Stir in the sugar and the chopped nuts, if using.

To make the filling, peel, quarter and core the apples and cut into 1cm/½in pieces. Quarter and core the pears and cut into 3cm/1¼in chunks crosswise (no need to peel). Spread the fruit in a shallow ovenproof dish about 30x20cm/12x8in and about 5cm/2in deep. Sprinkle over the cinnamon, drizzle over the honey (dip the spoon in just-boiled water first and the honey will slide off), pour over 120ml/4fl oz of water and mix together. Cover the fruit with the crumble topping, but do not press it down.

Bake the crumble for 45–55 minutes, or until the top is lightly brown and the liquid in the bottom is oozing up around the outside. Serve warm or hot with yoghurt, custard or, best of all, cold cream.
Recipe Tips
If you have time, make the crumble topping 30 minutes earlier and leave in the fridge while you chop the fruit, to slightly improve the texture.