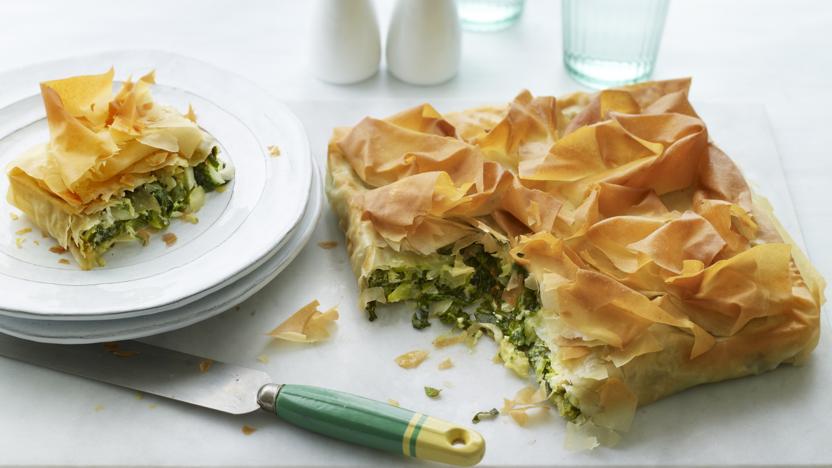 This is a great recipe to use up odds and ends of salad bags, herbs and cheeses – things I often don't know how to use. You can always supplement small amounts of scraps with a bag of shredded kale or spinach.
Method
Warm 2 tablespoons of olive oil in a large frying pan over a medium heat. Add the onion and fry gently for 4–5 minutes, or until beginning to soften. Add the green vegetables and cook gently for 7–10 minutes, stirring frequently.

Add the leafy greens, starting with the toughest (i.e. kale, cabbage, spring greens). You may need to add them a handful at a time to fit in your pan, but they will wilt down quickly. Tougher greens will need to cook for around 15 minutes until tender, but baby spinach, rocket and salad leaves will wilt in about 5 minutes. When everything is tender, but still bright, set aside until cool enough to handle.

Squeeze the greens in a sieve to get rid of any liquid. Add to a large bowl and mix in the herbs, cheese and lemon zest. When everything is combined, season to taste, then stir in the eggs.

Preheat the oven to 200C/180C Fan/Gas 6.

Brush the bottom of a 9in/23cm square baking dish with some of the remaining olive oil. Take the filo pastry from the packet and keep under a damp tea towel so it doesn't dry out and become brittle.

Working with one sheet at a time, brush the filo all over with a light coating of olive oil. Lay one sheet in the baking dish, pushing it gently into the corners and leaving the excess filo overhanging. Then lay the second oiled sheet in perpendicular to the first. Lay a third sheet in the dish, crossing the second. Now fill this base with the vegetables and wrap the overhanging ends over the top.

Brush the remaining filo sheets with oil, scrunch each sheet up loosely and place on top of the pie so it is completely covered.

Bake in the oven for 40 minutes, or until the pastry is golden brown and crisp and the filling is piping hot all the way through.

Cut into squares and serve with a fresh tomato salad and some crusty bread.
Recipe Tips
Green vegetables can be a mixture of any of the following in any proportion: leeks, celery, fennel, green pepper, spring onions or the stalks from chard/bok choi, if using.
Leafy greens can be a mixture of any of the following in any proportion: kale, cavolo nero, spinach, chard, rocket, watercress, mixed salad leaves, spring greens, Savoy cabbage or bok choi. You can even use up to 300g defrosted frozen spinach.
You can make 6 individual muffin cup pies by dividing each filo sheet into four. Use three to line the base of each muffin cup as above and scrunch one up for the top. Bake for 20 minutes.
This pie freezes, unbaked, and can be cooked from frozen by adding 10-15 minutes on to the cooking time. Just be sure to use a dish that is suitable for use from freezer to oven.