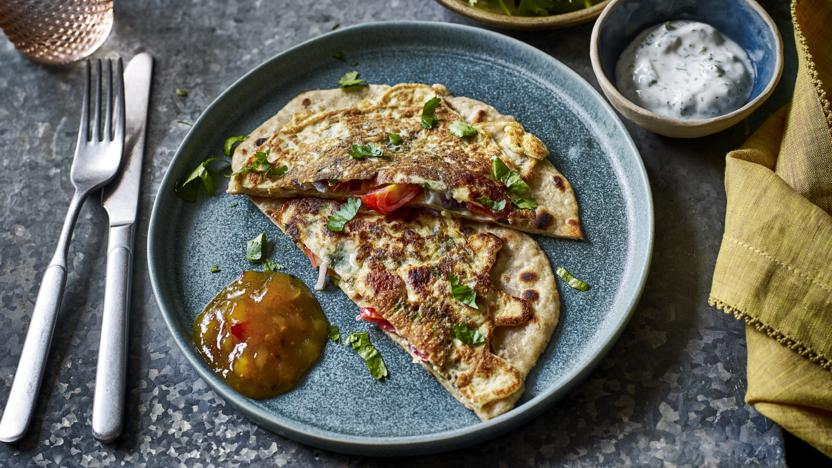 This makes a great late evening snack or brunch dish with a kick! Make a batch and reheat for a quick early morning snack.
Ingredients
For the paratha dough
150g/5½oz chapatti or wholemeal flour, plus extra for dusting
1 tsp salt
2–3 tbsp ghee, for frying
mint yoghurt, chutney or salad, to serve
For the egg mixture
Method
To make the dough, combine the flour, salt and 75ml/2½fl oz warm water in a bowl and knead with your hands until a smooth dough is formed, adding extra water if needed. Cover and set aside to rest for 10 minutes, while you chop the vegetables.

For the egg mixture, place all of the ingredients in a large bowl and mix to combine.

To make the paratha, take a golf-ball-sized piece of dough and shape into a ball. Flour a clean surface and roll the dough out to a 1mm thick circle. Heat 1 teaspoon of the ghee in a large frying pan over a medium heat and fry the paratha for 1–2 minutes on each side until lightly browned.

Add a little more ghee and a ladle of the egg mixture to the pan. When it starts to sizzle, place the paratha back into the pan over the egg mixture. Let it cook for a few minutes until the egg mixture appears to have soaked into the bread and has cooked through. Flip over for a couple of seconds, and then transfer to a warmed plate. Keep warm or eat immediately with mint yoghurt, chutney or salad. Repeat with the rest of the paratha dough and egg mixture.
Recipe Tips
The parathas can be frozen for up to a month and defrosted by heating up some oil in a pan and lightly cooking through. Check they are completely cooked through before eating.