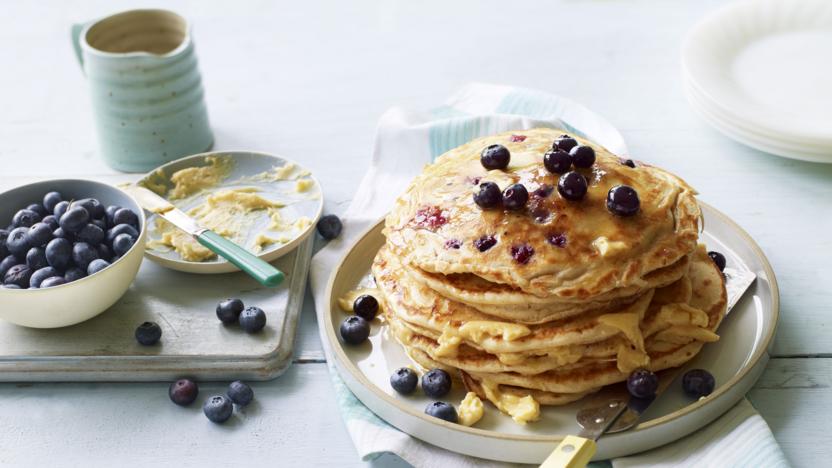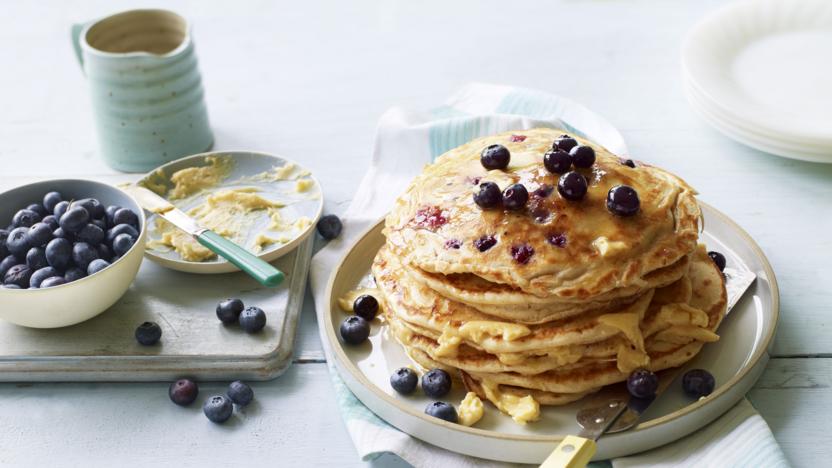 An American classic, these fluffy blueberry pancakes make the perfect brunch and are served with maple butter.

Try experimenting with the toppings of this American buttermilk pancake recipe by adding bacon, eggs, nuts, syrup or yoghurt.
Ingredients
For the maple butter
Method
For the pancakes, put the flour, baking powder, cinnamon, if using, and salt in a large bowl, mix and make a well in the centre. Put the buttermilk, egg yolks, melted butter and vanilla in a large bowl and whisk. In a separate, clean glass bowl, whisk the egg whites until stiff peaks form.

Pour the buttermilk mixture into the well in the flour mixture and whisk. Add a large spoonful of the egg whites and fold in with a metal spoon to loosen the batter a little. Stir in the rest of the egg whites, preserving as much of the air as possible, until you have a fluffy, bubbly batter.

Heat a 20cm/8in frying pan over a medium heat and add a little butter. Pour one and a half ladlefuls of batter into the pan. Sprinkle a large handful of blueberries over the pancake; it will rise up around them as it cooks. When the pancake has browned on the bottom and is firm enough to flip (cooked through beyond halfway), turn it over quickly and cook for another minute on the other side. Transfer to a plate. Repeat with the rest of the batter and blueberries.

For the maple butter, put the butter, cinnamon and a pinch of salt into a bowl. Whisk with a hand whisk until white and fluffy. Gradually whisk in the maple syrup until it is all incorporated and has a whipped consistency. Serve alongside the pancakes.
Recipe Tips
You can keep the pancakes warm on a tray in a low oven, covered loosely with foil. You can use frozen blueberries if you let them thaw in the fridge overnight. They will be juicier than fresh berries, so add them to the batter carefully.