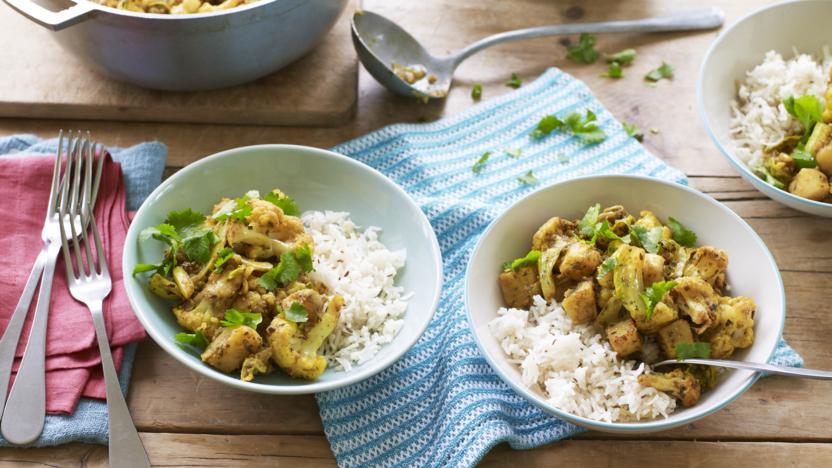 This hearty cauliflower and potato curry is one of the most common vegetable curries you will find in India. Serve with spiced jeera rice for a cheap, filling and vegan midweek meal.
Ingredients
For the jeera rice
For the aloo gobi
Method
To make the jeera rice, wash and soak the rice while you prepare the spices. Place the oil in a large saucepan over a medium heat. Add the onion, cumin, bay, cinnamon and cardamom pods and gently fry for a few minutes. Drain and add the rice, then pour over 800ml/1¼ pint water. Bring to the boil, cover, reduce the heat and simmer for 15–20 minutes.

Meanwhile, to make the aloo gobi, heat the oil and butter in a large heavy-based saucepan over a medium heat. Add the cumin, turmeric, ginger, onions, chillies and fenugreek and fry for a few minutes. Add the cauliflower florets and leaves, stir to coat in the spices and cook for a few minutes. Add the potatoes, stir again, cover and steam for 10–15 minutes, or until the vegetables are tender. Sprinkle over the garam masala and season to taste. Garnish with coriander before serving with the rice.