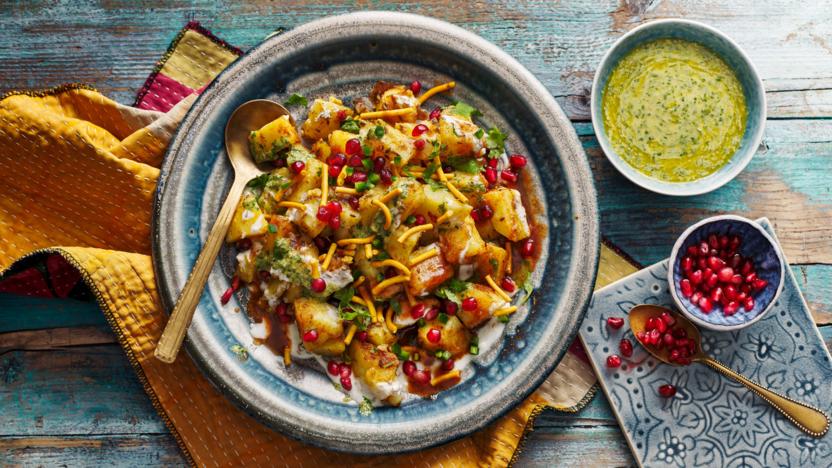 Aloo chaat is a combination of different flavours all in one dish. It reminds me of childhood with my friends and is a great sharing dish. Bhujia is a crisp fried chickpea noodle that adds extra crunch - don't skip it!
Ingredients
For the aloo chaat
For the mint and coriander chutney
Method
To make the aloo chaat, cook the potatoes in a saucepan of lightly salted boiling water until just cooked through. Drain and leave to cool. Put the cooled potatoes, all the spices (except the cumin seeds), 10g/⅓oz fresh coriander and 35g/1¼oz pomegranate seeds in a large bowl with the chillies, lemon juice and ½ tsp salt. Mix together and set aside.

Put the yoghurt, sugar, cumin seeds and milk in a bowl and whisk together.

To make the mint and coriander chutney, place all of the ingredients together with 20–30ml/¾–1fl oz water in a food processor or blender and blend until smooth.

Place the potato mixture on a large serving plate. Spoon the yoghurt mixture over the potatoes. Top with 4 teaspoons of tamarind chutney and 4 teaspoons of mint and coriander chutney. Sprinkle with the bhujia, remaining pomegranate seeds and fresh coriander, then spoon over 1 teaspoon of mint and coriander chutney and 2 teaspoons of tamarind chutney. Serve for everyone to share.
Recipe Tips
Any leftover mint and coriander chutney will keep in an airtight jar in the fridge for about a week.