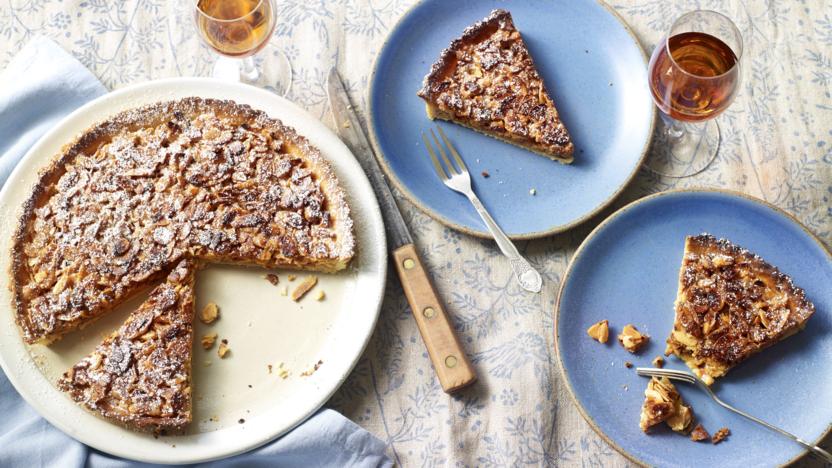 This wonderful tart brings together crisp pastry and butterscotch-tasting almonds.

For this recipe you will need a loose-bottomed 24cm/9½in fluted tart tin.
Ingredients
For the pastry
For the filling
Method
Preheat the oven to 190C/170C Fan/Gas 5. For the pastry, put the flour, butter and sugar together in a food processor and blitz until they resemble breadcrumbs. Add the egg yolk and 2 tsp cold water and mix until the dough comes together. Roll out on a floured worktop to a thickness of 5mm, a little bit bigger than the base of a 24cm/9½in fluted tart tin.

Use your fingers to press the pastry into the corners of the tin and about 1cm/½in up the sides to create a small lip around the edge. Cover with cling film and leave in the fridge for at least 30 minutes.

Remove the cling film and prick the pastry base all over lightly with a fork. Line with baking paper and tip in baking beans or lentils. Bake for 15 minutes. Remove the baking beans and paper and return to the oven for 3–4 minutes to dry out the base without colouring.

To make the filling, toast the almonds in a dry frying pan over medium-high heat for 2–3 minutes, until light golden-brown, keeping a close eye on them. Tip them into a bowl.

Put the butter, sugar and milk in the frying pan over medium heat. When the sugar has dissolved and the butter melted, bring to the boil and boil for 1 minute. Add the almonds and mix well before turning into the pastry case.

Bake for 15–20 minutes, until rich golden-brown. Remove from the oven and leave to cool. Serve warm or cold.
This recipe is from...
Recipes from this episode