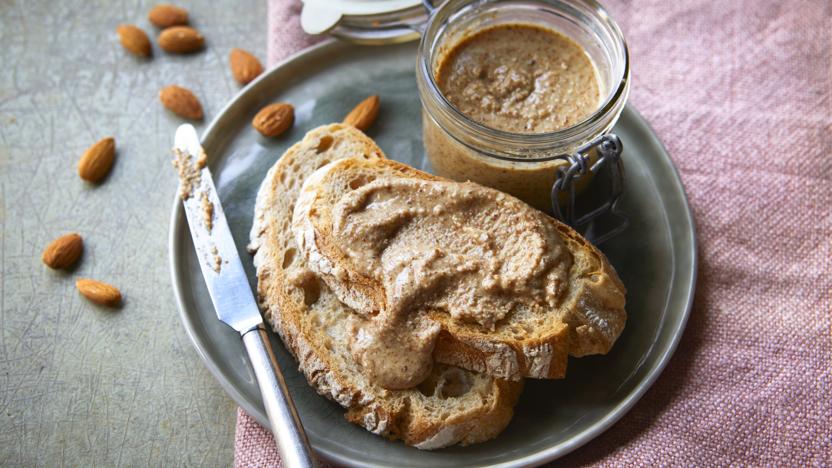 Making almond butter at home is easy, delicious and nutritious. Simply put toasted nuts in a food processor and whizz until they break down, first into small pieces and eventually into a paste. Toasting the almonds adds to the flavour and helps to release the natural nut oils – no need to add any extra oil to make this butter.
Method
Preheat the oven to 180C/160C Fan/Gas 4. Roast the almonds on a baking tray for 12 minutes or until lightly toasted, taking care they don't burn. Leave to cool for 10 minutes.

Transfer to a food processor and whizz until the nuts break down, first into pieces, then a finer meal that starts to clump, and finally into an oily paste. Scrape down the sides every so often to ensure an even texture. The timing will depend on the food processor – anything between 7–15 minutes or so.

Season with salt to taste, whizzing briefly to mix again. Cover, store in the fridge and ideally use within a couple of weeks.
Recipe Tips
Homemade butters can be spread on bread or toast. Loosen the texture with water and drizzle over bananas for a healthy, high protein snack. Add to smoothies, sauces and soups to make them more nutritious and slightly thicker. In recipes, use in a satay sauce or in a delicious Spanish Romesco sauce to serve with fish, lamb, grilled vegetables or sauté potatoes.