Almond and pear tart with orange crème fraîche
A showstopper pear and almond tart with a subtle hint of ginger. A great option for entertaining as it can be prepared in advance. Serve with a dollop of crème fraîche or good quality ice cream.
Ingredients
For the pastry
For the sponge
For the topping
For the orange crème fraîche
Method
For the pastry, put the flour in a medium bowl and grate in the cold butter. Mix well and then stir in the caster sugar and egg yolks. Add just enough cold water (approximately 2 tablespoons) to bind the pastry together. Knead lightly to form a smooth, soft dough. Wrap in cling film and chill in the fridge for around 30 minutes.

Preheat the oven to 200C/180C Fan/Gas 6.

On a lightly floured surface, roll out the pastry to the thickness of a pound coin and use it to line a 23cm/9in fluted flan tin. Press the dough into the corners and allow it to overhang without trimming the edges. Prick the base with a fork then line the pastry case with baking paper and fill with baking beans.

Place on a baking sheet and bake blind in the oven for about 15 minutes. Remove the baking paper and baking beans and return to the oven to cook for a further 5 minutes to dry out, or until the base is lightly golden.

Remove from the oven and allow to cool slightly before carefully trimming off the excess pastry using a small serrated knife.

Reduce the oven temperature to 180C/160C Fan/Gas 4.

For the sponge, beat the butter, sugar, flour, ground almonds, eggs and egg yolk in a freestanding mixer or large bowl until smooth and well combined. Tip into the prepared pastry case. Arrange the pear slices on top of the tart and scatter over the flaked almonds.

Bake in the oven for 40–45 minutes, until pale golden brown and the filling is set. Remove from the oven and brush the top with ginger syrup when it is still hot. Leave to cool in the tin.

For the orange crème fraîche, combine the crème fraîche, sugar and orange zest in a small bowl.

Remove the tart from the tin and dust with icing sugar. Cut into wedges and serve with a dollop of orange crème fraîche alongside.
This recipe is from...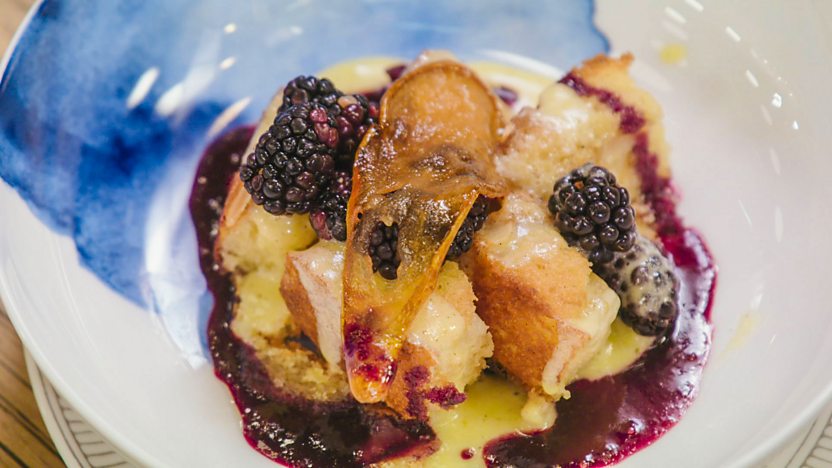 Best Home Cook
1. Episode 1
Recipes from this episode