A medley of shellfish with baby vegetables
Preparation time
less than 30 mins
Cooking time
10 to 30 mins
Delicious fresh seafood in creamy sauce served with seasonal veg. So simple and a delight for seafood lovers.

Preparation time
less than 30 mins
Cooking time
10 to 30 mins
Ingredients
For the shellfish
For the vegetables
Method
For the shellfish, heat a large lidded saucepan over a high heat. Add the clams, mussels and white wine. Place a lid on top and cook for 2-3 minutes, or until the clams and mussels have opened (discard any unopened clams and mussels). Keep the cooking liquor from the shellfish.

Heat a frying pan over a medium heat and add 50g/1¾oz butter. Once hot and melted, add the shallots and cook for 1-2 minutes.

Add the reserved liquor from the shellfish and cook until the volume of liquid is reduced by half. Add the fish stock and again reduce by half. Turn down the heat and add the cream and remaining butter.

For the vegetables, fill a large saucepan with boiling salted water and blanch the turnips for 3 minutes, the carrots for 2 minutes and the asparagus for a minute. Drain and set aside.

Heat a frying pan and add the butter and the vegetables. Cook for 1-2 minutes then add a couple of tablespoons water and cook until the vegetables are tender.

Just before serving, add the langoustines and lobster to the sauce to warm through. Then add the fresh chervil.

Heat a large frying pan over a high heat and add the oil. Once hot, add the scallops and cook on each side for 1-2 minutes. Add a knob of butter to the pan just before they are finished and glaze the scallops as it melts.

Put the baby vegetables and all the shellfish in a serving bowl and garnish with the sea aster and sea purslane.
Related Recipes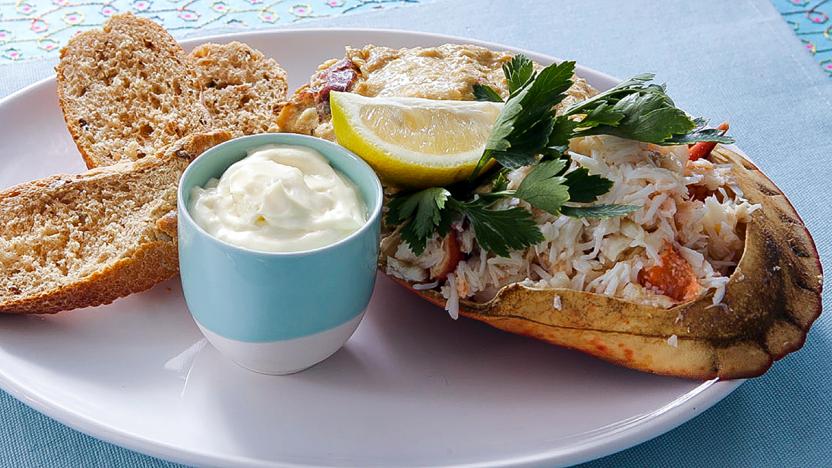 See more seafood recipes (132)