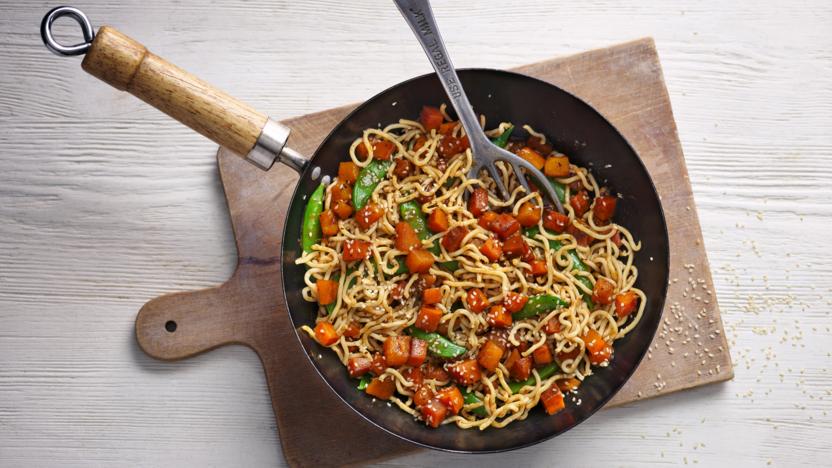 The secret to a simple, satisfying stir-fry is making sure there are plenty of different textures to keep each mouthful interesting. This Chinese stir-fry has crunchy sugar snaps, sticky sweet root veg and chewy noodles, topped with toasted sesame seeds.

Each serving provides 429 kcal, 12g protein, 63g carbohydrates (of which 17g sugars), 12g fat (of which 1.5g saturates), 9g fibre and 1.7g salt.
Method
Tip the diced vegetables and vegetable oil into a large wok. Fry over a high heat, stirring, for about 5 minutes, until the vegetables begin to take on some colour. Add the sauce with 300ml/½ pint water and leave to bubble, stirring occasionally, for 12–15 minutes, until the sauce has reduced and the vegetables are cooked through.

Meanwhile, tip the sesame seeds into a frying pan and toast until golden brown, then tip into a bowl to stop them cooking further.

Heat the sesame oil in the sesame seed frying pan, add the sugar-snap peas and stir-fry for 1 minute.

Add the noodles to the vegetable mixture and use tongs to mix them through as they heat up. Tip in the sugar-snap peas and most of the sesame seeds, stir through, then divide between plates. Scatter the rest of the sesame seeds over the top and serve.
Recipe Tips
It's easy to swap in different sauces: hoisin, teriyaki and sweet chilli sauces all work well.