Kew on a Plate: Autumn
Episode 3
30 March 2015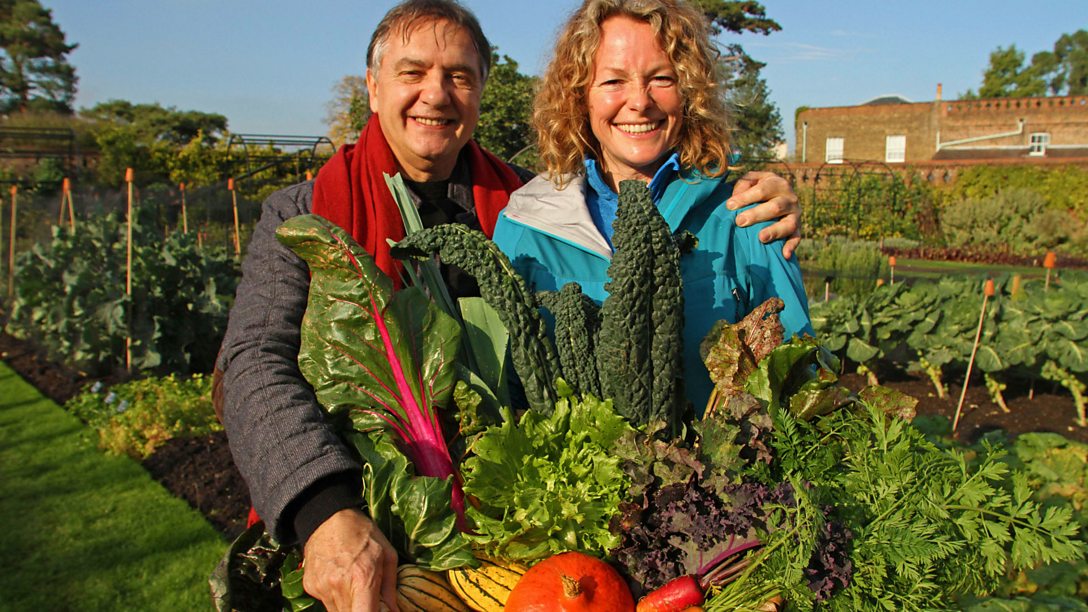 It's autumn at Kew, and the vegetable garden is set to produce a bumper harvest. Raymond Blanc and Kate Humble grow some of our autumnal favourites and cook them up in the Kew kitchen.
Kate finds out why the tomato was once considered to be a deadly poison and how the arrival of ketchup helped convert us into a nation of tomato lovers. Over in France, she discovers that the quintessential image of a French onion seller actually has a very British history, and Raymond makes the definitive tomato and onion salad.
For his delicate stir-fried oyster mushroom broth, Raymond sets up a mushroom farm in Kew's old ice house, while Kate examines a particularly special specimen in the aptly-named fungarium. Then she's off in search of the only working pineapple pits in the country to find out how this tropical fruit was grown in Georgian Britain.
Back in the garden, Raymond enlists the help of some local children to harvest some Halloween pumpkins, and it's time for the beetroot to be lifted. Raymond transforms this earthy vegetable into a delicious autumn tart, and Kate investigates how the humble beet transformed the sugar industry.
And with winter on the horizon, it's time for the last crop of the season - the apple. Kate tries her hand at traditional cider making and finds out why apples were once used as a means of payment, and Raymond rounds off the season with a glorious apple charlotte.
Related chefs