Potato recipes
Potatoes are tubers that are a staple food in many parts of the world, particularly Europe and the West. They are commonly categorised according to when they're harvested (early, mid-season and late) as well as their characteristics (whether waxy in appearance, or floury once cooked). All-rounder varieties include King Edward, Maris Piper, Romano and Desirée potatoes, which are suitable for every type of cooking except for salads and steaming.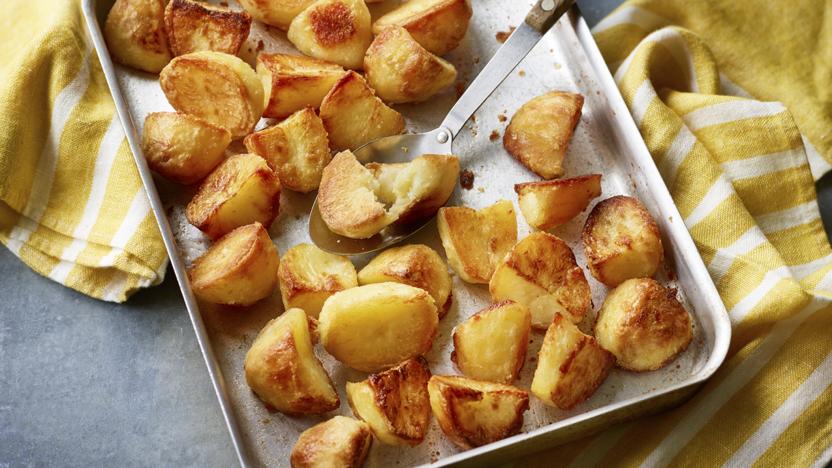 Fluffy inside, crunchy outside, these roast potatoes are a perfect sidekick to any roast dinner. (They're even better the next day, eaten straight from the fridge!) Read our guide for more insight into how to cook the perfect roast potatoes.
Each serving provides 389 kcal, 7g protein, 65g carbohydrates (of which 3g sugars), 9.5g fat (of which 4g saturates), 7g fibre and 0.3g salt.
Side dishes
Buyer's guide
The British potato season begins in April with waxy Jersey Royals, which continue into June. Other early potatoes, including waxy salad varieties, start to appear in May. Duke of York (1942) come into season in September and last through to April, but the main potato season begins in October. These potatoes are available until early spring - but beware that, towards the end of storage in March, the starch in potatoes turns to sugar, so chips made from stored varieties will tend to be soggy but sweeter.
Despite this humble tuber's popularity, shoppers have generally been offered very little choice about what types of potato to choose from. Supermarkets and some farmers' markets are increasing their range of old and new potato varieties, with myriad tastes and textures. Whichever you buy, they should be firm and well-shaped with no eyes or green patches.
The British tend to prefer white-fleshed tatties, whereas the Dutch and Spanish like yellow-fleshed potatoes, but colour makes little difference to the taste. Once cooked the texture of potatoes can range from smooth, waxy-textured flesh perfect for salads to floury-textured flesh ideal for fluffy mashed potato, so it's important to know what type of potato you've bought before you decide how to cook them.
Storage
Potatoes can be stored in hessian or paper sacks; just remove any moist mud from them to prevent mould from forming. Store in a cool, airy, dark place, such as a larder or a shed.
Preparation
The following cooking methods suit different potatoes best:
Baking - Cara, Golden Wonder, Marfona, Estima
Boiling - Cara, Estima, Pink Fir Apple, Saxon, Nadine, Vivaldi, Yukon Gold
Chips - Estima, Maris Piper, Pentland Dell, Sante, King Edward, Golden Wonder
Mashing - King Edward, Pentland Squire, Pentland Dell
Roasting - Cara, Wilja, Pentland Dell
Salad - Charlotte, Ratte, Jersey Royal, Pink Fir Apple, Vales Emerald
Varieties of potato
Typically made with potato