Pepper recipes
Traffic-light bright and shiny, peppers are welcome guests at the summer table. Although native to the Americas, crunchy peppers are synonymous with Mediterranean dishes and marry perfectly with other seasonal staples such as aubergines, courgettes and tomatoes. Stew these ingredients together in a pepperonata and serve warm with crusty bread and thick slices of pan-fried pork fillet, or layer thick slices of fried pepper, aubergine and courgette with mozzarella and grill until the cheese has melted.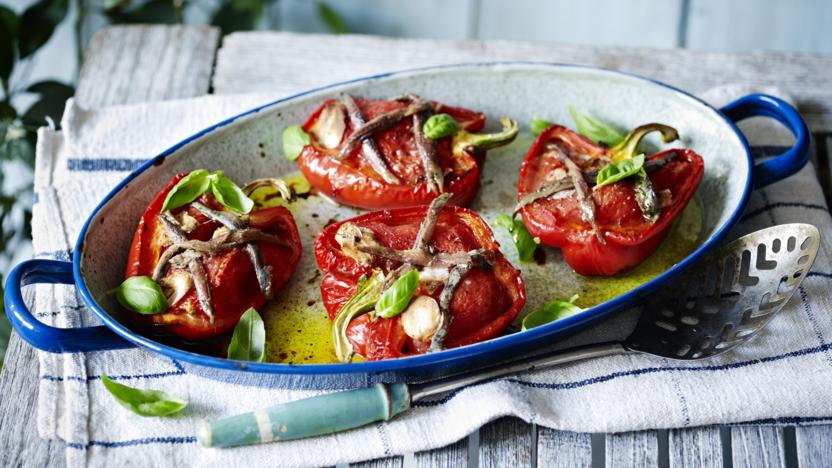 by Simon Hopkinson
Simon Hopkinson's recipe for roast peppers is perfect as an antipasto or a light lunch.This recipe is ridiculously easy, roasting a halved tomato snuggled inside the pepper and then topped with salty anchovies and fresh basil to finish.
This meal provides 231 kcal, 6.2g protein, 16g carbohydrate (of which 15g sugars), 16g fat (of which 2.5g saturates), 6g fibre and 1g salt per portion.
Starters & nibbles
Preparation
Choose your capsicum to suit your dish and experiment with different varieties. Green peppers are the most bitter, and work well in tangy dishes such as goulash. Reds are all-rounders: incorporate them into stir fries, ratatouille, or pasta sauces. Spanish dishes also make heavy use of red peppers and paprika, a derivative of the Anaheim pepper variety. Try piquillo peppers, which work well as tapas, either stuffed with soft cheese or served with pan-fried slices of chorizo. Or, ring the changes with pleasantly sweet Romero peppers.
Yellow and orange pepper varieties bring sweeter notes to salads or dishes such as sweet-and-sour pork. Try stuffing them with herbed couscous and serving alongside a thick slab of chargrilled tuna.
The flesh of peppers is juicy and robust enough to withstand fiery hot coals. Griddle the pepper halves, then drizzle with pesto and sprinkle over toasted breadcrumbs - a simple accompaniment to barbecued meats. Or, thread pepper pieces onto skewers with cubes of succulent pork or marinated chicken and offer them up to the grill.
Varieties of pepper
Typically made with pepper
Other capsicum