Peach recipes
Perfectly ripe peaches are one of life's pleasures, and summer is the best time to seek them out. Try our recipes for peach cobbler, posset and much more.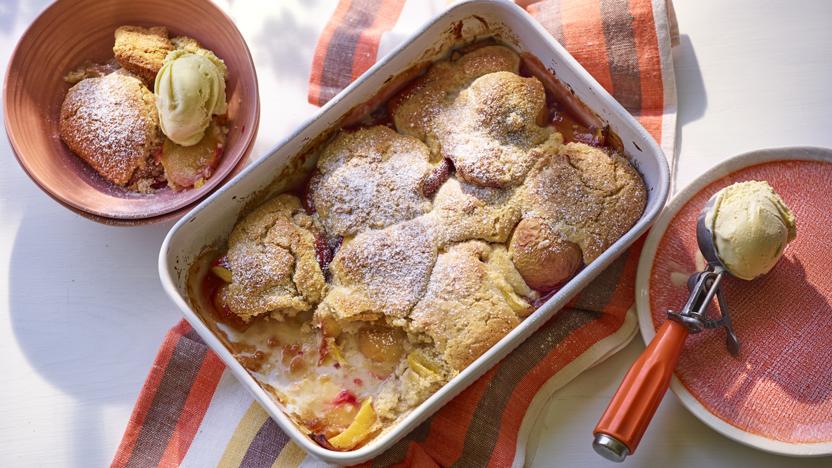 by Sarah Cook
A cobbler topping is somewhere between a crumble, scone and dumpling. Cook in a wide, shallow baking dish rather than something narrow and deep to make sure your 'cobbles' cook through but stay light and fluffy.
Desserts
Buyer's guide
Look for fruit that is smooth with soft, velvety skin and a bright complexion and avoid hard or wrinkled peaches with blemishes or green tinges. A ripe peach will yield gently to palm pressure, suggesting a state of being, as William Morris so expressively put it, 'pinch-ripe'. Do not store peaches in the fridge, which can cause their flesh to turn floury or mealy.
Preparation
Fresh peaches are second to none, and are perfect eaten as they are (with the obligatory peach juices running down faces and arms!), though extra decadence can be added with lashings of freshly whipped cream or a drizzle of honey to enhance their sweetness. Caramelising the flesh on a hot griddle will add an extra dimension, and poaching the fruit in wine is also a worthy way of serving it. Purée the fruit and use in a classic Italian Bellini recipe for a summery cocktail, or chill into an icy sorbet. Tarts, pies and crumbles will all put peaches to good use.